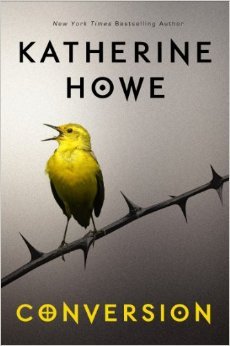 Conversion by Katherine Howe
Published Putnam 2014
Genre: Young Adult Mystery
Format: Hardback from the library
From the New York Times bestselling author of The Physick Book of Deliverance Dane comes a chilling mystery—Prep meets The Crucible. 
 It's senior year at St. Joan's Academy, and school is a pressure cooker. College applications, the battle for valedictorian, deciphering boys' texts: Through it all, Colleen Rowley and her friends are expected to keep it together. Until they can't.
First it's the school's queen bee, Clara Rutherford, who suddenly falls into uncontrollable tics in the middle of class. Her mystery illness quickly spreads to her closest clique of friends, then more students and symptoms follow: seizures, hair loss, violent coughing fits. St. Joan's buzzes with rumor; rumor blossoms into full-blown panic.
Soon the media descends on Danvers, Massachusetts, as everyone scrambles to find something, or someone, to blame. Pollution? Stress? Or are the girls faking? Only Colleen—who's been reading The Crucible for extra credit—comes to realize what nobody else has: Danvers was once Salem Village, where another group of girls suffered from a similarly bizarre epidemic three centuries ago . . .
Inspired by true events—from seventeenth-century colonial life to the halls of a modern-day high school—Conversion casts a spell. With her signature wit and passion, New York Times bestselling author Katherine Howe delivers an exciting and suspenseful novel, a chilling mystery that raises the question, what's really happening to the girls at St. Joan's?
This book was really good! I picked this up on Halloween and it was the perfect read for that season. However, I really think anyone would like this book. It has so many different aspects from all genres.
The main part of Conversion was, of course, the mystery aspect. This illness all the girls get was really captivating. I always wanted to know what was going to happen next or who would catch this random disease. There are many little components as well that build up to the conclusion, pieces that don't seem to make sense until the very end. All of the mystery was intriguing the entire time and took many different twists and turns. It wasn't necessarily horror, although there were a few aspects tossed in (such as some of the more gruesome descriptions of the varying forms of the disease). The setting was also perfect for this type of story. The fancy prep school had really great detail and allowed for the story to flourish within the school.
Colleen, the main character, was super relatable. I liked how she was never at the forefront of the disease, contracting it right away or really even caring. It starts out farther away from her and grows closer into her group of friends. She has some of the best dialogue I have read recently – very up to date and like a regular teenage girl would speak. Her family is a very strong point of this book as well, which I appreciated. There is just a little bit of a romance, but not too much. It isn't the major focus of the story at all.
The other perspective of this story was Ann, set in the colonial time period of the Salem Witch Trials. This part lagged at some points and was a little bit hard to understand with all the different characters. These sections are a little bit shorter and less frequent, so the characters are all really hard to keep up with. However, that doesn't take away from the fact that these sections are so important to the overall story. I loved the moment when they finally tied together with the real world. It also added so much to the creepiness factor of the story and I really liked the overall feeling of these sections.
The entire book kept a very mysterious, creepy tone that really pushed me to give it the full five stars. Overall, this was a great mystery book for Halloween! I would highly suggest it and I can't wait to check out more of Katherine Howe's books.