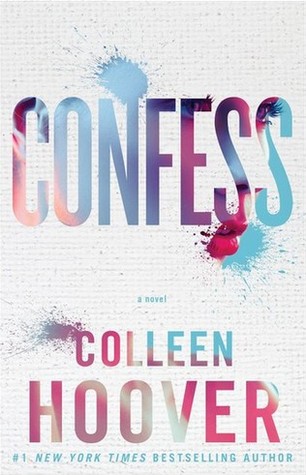 Confess by Colleen Hoover
Published Atria 2015
Genre: New Adult Romance
Format: Kindle ebook
Auburn Reed has her entire life mapped out. Her goals are in sight and there's no room for mistakes. But when she walks into a Dallas art studio in search of a job, she doesn't expect to find a deep attraction to the enigmatic artist who works there, Owen Gentry.
For once, Auburn takes a risk and puts her heart in control, only to discover Owen is keeping major secrets from coming out. The magnitude of his past threatens to destroy everything important to Auburn, and the only way to get her life back on track is to cut Owen out of it.
The last thing Owen wants is to lose Auburn, but he can't seem to convince her that truth is sometimes as subjective as art. All he would have to do to save their relationship is confess. But in this case, the confession could be much more destructive than the actual sin…
I love contemporary and I've read a ton of YA contemporary/romances over the years. However, I have never really adventured into the new adult genre. I decided to start here, with some Colleen Hoover, because I've heard that she is the queen of new adult! I had some mixed feelings on this, but I'll be for sure reading more and continuing to explore this genre.
Auburn and Owen are really sweet together. Auburn is a typical girl, but I really enjoyed her backstory. I don't want to spoiler anything about her confession or anything, but she does have some secrets to be revealed! Auburn is a great female lead and I found her very relatable. She's hard working and I admired her resilience. Owen is much less focused as compared to Auburn, but still has his own set of goals and values that lead him through life. I was also pretty surprised by his big confession. Colleen Hoover is very good at keeping things a secret and dropping NO hints!
Their interactions are super fun! They have some banter, but it isn't a really obnoxious banter that is drawn out throughout the entire book. There is some insta-love, so I did take off a star for that, especially because they understand how they are both in love with each other after like a week? A little too fast for me and I would have liked more development between them. Everything moved a lot faster in their romance than in a typical YA romance, which is really the only big difference from YA in this book. I'm sure other books have more than this one, but I feel like this is good to start with if you are bridging from YA to NA.
Overall, I liked this book. I don't really have much to compare it on because this is my first New Adult book. I was pleased with it, but I still wanted some more buildup on the romance and some more quirky characters. I'll be reading more from CoHo though and keep trying more NA!