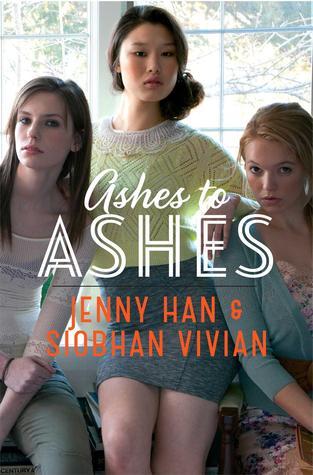 Ashes to Ashes by Jenny Han and Siobhan Vivian (Burn for Burn #3)
Published Simon and Schuster 2014
Genre: Young Adult Contemporary
Format: Hardback
*There will be spoilers for the first two books in this series, Burn for Burn and Fire with Fire! I have reviews for both of these, but I really recommend this series if it sounds like something you would be interested in.
New Year's Eve ended with a bang and Mary, Kat and Lillia may not be prepared for what is to come. After Rennie's death, Kat and Lillia try to put the pieces together of what happened to her. They both blame themselves. If Lillia hadn't left with Reeve… If Kat had only stayed with Rennie… Things could have been different. Now they will never be the same. Only Mary knows the truth about that night. About what she is. She also knows the truth about Lillia and Reeve falling in love, about Reeve being happy when all he deserves is misery, just like the misery he caused her. Now their childish attempts at revenge are a thing of the past and Mary is out for blood. Will she leave anything in her wake or will all that remain be ashes?
I feel like this series took a bad twist somewhere. Actually, the somewhere is when the paranormal ghost aspect began. I would have liked the whole series more without that. However, since it happened, I will be reviewing the rest of book not out of spite for the missed opportunity, but for what happened.
Lillia, Lillia, Lillia. She's always been my favorite throughout the entire series and that continued in this book. Her relationship with Reeve is always super cute. Most of the beginning of this was focused on Lillia and Reeve. They have so much chemistry and I loved their relationship. I'm not too happy with the twist it took at the end, especially in the epilogue. Just saying, you can't have that much chemistry with someone and none with another person and then everything switches in the end. Sorry, not sorry.
Kat became my favorite character after Lillia starting making stupid relationship decisions, but I liked her so much that it wasn't hard for her to get to that point. I loved her spunk through everything and where she ended up in the end. She's so dedicated to her friends and her family. Kat really made huge progress from the beginning of the series to the end. Overall, I was the most happy with her.
Now, the major problem I had with this book. Mary. Mary took a huge U-turn as a character. Seriously, you could not recognize her from the first book to this one. It's not positive character development either. All of a sudden, the dark, vengeful contemporary turned into a wild ghost story. Mary became evil, spiteful, rude, and malicious. She goes on a death hunt, trying to kill literally everyone, even her friends that she used to value. It was not at all what I expected and I really wasn't happy with how it happened. Mary took a total nose dive as a character. Getting over that, I did enjoy parts of the ghost story. I liked how Kat stood up and really fought back against it, the total opposite of how Lillia reacted. I liked how creepy it got, how haunting. There was a little bit too much at sometimes. I definitely wanted Mary to let it go. Reeve had clearly moved on and was being a nice person, but Mary lost it multiple times as a ghost. I also didn't really understand how her being a ghost tied into the first two books, especially considering that she seemed so real in the first two books.
Overall, I was disappointed with this ending. Mary as a ghost, Lillia's relationship decisions, and the final conclusion just weren't enough for me. However, I did really enjoy this series and would recommend it.