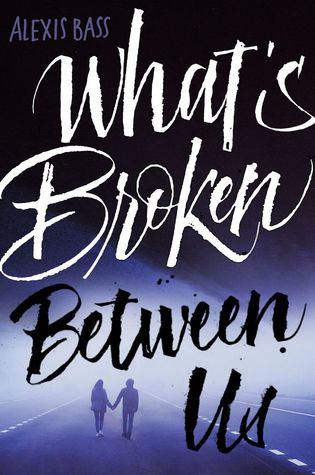 What's Broken Between Us by Alexis Bass
To be published HarperCollins December 29
Genre: Young Adult Contemporary
Format: I received an eARC copy of this book from Edelweiss and Fantastic Flying Book Club in exchange for review consideration. All the content of this review and opinions are my own.
Alexis Bass's heartbreakingly beautiful second novel is a tale of love, loss, and learning to forgive.
Look to the left, look to the right. We're all going to die. But someone has to do it first. So who's it going to be?
Tragedy struck Amanda Tart's town a year and a half ago when a sophomore girl was killed in a car accident on graduation night.
Amanda's brother, Jonathan, was behind the wheel and too drunk to drive. He's spent the past year in prison and has cut off all ties. But now Jonathan is coming home. Just as Amanda's trying to figure out what that means for her family and herself, she's paired up for a school project with Henry Crane—a former crush, and brother of Jonathan's ex-girlfriend, who survived the crash with horrible injuries.
Everyone is still incredibly damaged by the events of that night. Can Amanda and Henry finally begin to heal what's broken and find some peace?
Don't we all just love a book with complex characters and a unique plot? That is exactly what What's Broken Between Us by Alexis Bass has to offer.
I have never read her first book, but I knew she was a contemporary author from popping up on other people's blogs as her debut came out. This synopsis reminds me a lot of books by Katie Cutogno, who I really love, for their complicated plots and sometimes uneasy characters. Are they in the right? Or are they wrong? Probably, they are somewhere in the middle like most people really are. This situation provides a great example for that – Jonathan was driving drunk and killed his girlfriend and his best friend. For that, he was sent to jail and has just been released. Instead of focusing on Jonathan, instead we focus on his sister, Amanda. I really liked having a slightly different point of view of a family member. Often in young adult, there are not too many family perspectives or how tragedy really expands outward to affect lots of different people in the family. This book was able to focus on that with a unique perspective from Amanda. She pairs up with Henry for a project, who is also a huge part of the family relationships that are featured within this book. Henry's sister died in the car crash that Jonathan caused and this is yet another aspect of the family relationships.
Both Amanda and Jonathan are complete messes, and understandably so, but I did find it a little hard to connect with them. The characters are really the most important part of the YA contemporary, but I was left unattached from them as the book and the situation continued to develop. I also wasn't a giant fan of the romance amongst everything else that was happening. It felt a little distracting from the other parts that I was more interested in, like the family relationships and the relationship between Amanda and Jonathan. However, the writing was really beautiful and you can tell from the quote down below and the excerpt!
Overall, this is a really hard book to tackle and discuss. There are lots of different aspects to this book and I would really suggest it if you are a fan of morally complex YA contemporaries.
BOOK LINKS:
Goodreads: https://www.goodreads.com/book/show/23633796-what-s-broken-between-us
Amazon paperback: http://amzn.to/1J40lLk
Barnes & Noble (B&N): http://www.barnesandnoble.com/w/whats-broken-between-us-alexis-bass/1121271803?ean=9780062275356
Bookdepository: http://www.bookdepository.com/Whats-Broken-Between-Us-Alexis-Bass/9780062275356
Kobo: https://store.kobobooks.com/es-ES/ebook/what-s-broken-between-us
iTunes: https://itunes.apple.com/us/book/whats-broken-between-us/id983040373?mt=11
PINTEREST BOARD FOR WHAT'S BROKEN BETWEEN US (by Alexis Bass):
Direct Link: https://www.pinterest.com/alexisbass/whats-broken-between-us/
EXCERPT:
Direct Link: click here

Giveaway!
You can win a $25 Barnes and Noble gift card (maybe even to buy this book!) by going to the Rafflecopter link here.