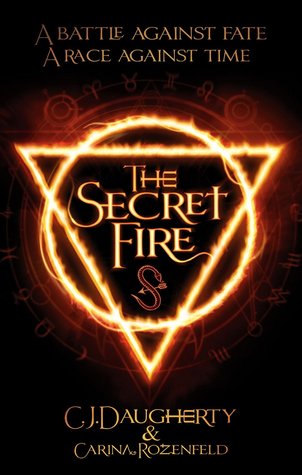 The Secret Fire by CJ Daugherty and Carina Rozenfeld (The Alchemist Chronicles #1)
To be published September 10 Atom
Genre: Young Adult Fantasy
Format: I received an e-ARC copy of this book from Net Galley and the publisher in exchange for review consideration. This did not affect my opinions of this book or the content in this review in any way.
French teen Sacha Winters can't die. He can throw himself off a roof, be stabbed, even shot, and he will always survive. Until the day when history and ancient enmities dictate that he must die. Worse still, his death will trigger something awful. Something deadly. And that day is closing in.
Taylor Montclair is a normal English girl, hanging out with her friends and studying for exams, until she starts shorting out the lights with her brain. She's also the only person on earth who can save Sacha.
There's only one problem: the two of them have never met. They live hundreds of miles apart and powerful forces will stop at nothing to keep them apart.
They have eight weeks to find each other.
Will they survive long enough to save the world?
First of all, many thanks to the publisher and Net Galley for letting me review this book early!
I loved the premise of this book. It sounded really cool – a boy that can't die, a girl that has to save him (and still has powers of her own)? I am a huge fan of alternating perspectives, specifically when those perspectives intertwine even though it might not seem like the two will ever get along or meet. The concept was intriguing, especially because I don't read very much fantasy. However, the execution of this awesome premise didn't go over very well for me.
The characters were cut-outs of real people. Sacha was my favorite of the two. He has a very daring personality, interesting relationships with his mother and his younger sister, and a new take on his impending death in just a few weeks. I liked seeing him do his thing in France and all of his scenes were filled with action in the underground gambling rings of Paris. On the other hand, Taylor was boring and uninteresting. I found her to be the stereotypical good girl who found her family secretly has magical powers. She is pretty much nothing without her schoolwork and her relationships with friends and her family didn't pull it off for me. I did like her experience in London and Oxford, as well as some of the alchemy parts of the world.
I was pretty so-so about the world. It didn't really make much sense to me, maybe because I don't read too much fantasy. The two main characters seem to come from completely different worlds and the explanation for what was happening came way too late in the book. I spent the first 25% confused and watching as both characters failed to be online at the same time for tutoring.
My main problem with this was that it was so slow. And even in the ending, nothing really happens. This whole book is setting up for a series and there is no climax here, just world building. That is probably the main reason why the book is very slow. It takes a while to build up the characters, to introduce their powers, to explain how they got them and the origins of their magic. I wanted all of that to be in the first half of the book and then get to the really cool stuff in the second half.
Overall, I wasn't too impressed with this. I liked the idea and Sacha's character, but the rest fell flat for me. I probably won't be finishing this series unless I see really great reviews for the second book.