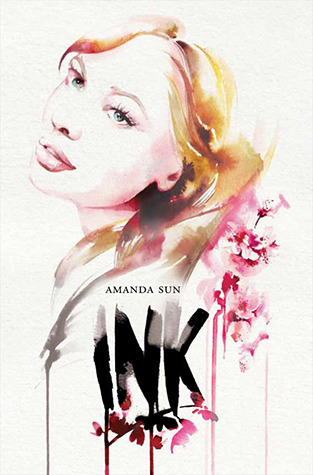 Ink by Amanda Sun (Paper Gods #1)
Published Harlequin 2013
Format: Paperback
Genre: Young Adult Fantasy
On the heels of a family tragedy, the last thing Katie Greene wants to do is move halfway across the world. Stuck with her aunt in Shizuoka, Japan, Katie feels lost. Alone. She doesn't know the language, she can barely hold a pair of chopsticks, and she can't seem to get the hang of taking her shoes off whenever she enters a building.
Then there's gorgeous but aloof Tomohiro, star of the school's kendo team. How did he really get the scar on his arm? Katie isn't prepared for the answer. But when she sees the things he draws start moving, there's no denying the truth: Tomo has a connection to the ancient gods of Japan, and being near Katie is causing his abilities to spiral out of control. If the wrong people notice, they'll both be targets.
Katie never wanted to move to Japan—now she may not make it out of the country alive.
I have had this book on my shelf FOREVER and I decided that in 2016, it was finally time to read it. I have no idea why I waited so long because I have had it pretty much since its release, but I guess that it just kept falling back on my TBR. Anyway, this book has a really interesting premise with the inclusion of Japanese culture. I used to have a lot of Japanese friends growing up and my elementary school was actually majority Japanese students, so this book really brought me back to that part of my childhood. From the delicious aspects of the food to the little bits of Japanese language thrown it, it was a great reading experience and from what I can tell, pretty authentic. Reading the acknowledgements shows how much work Sun did into researching this world and that part of this novel pulled off really well.
Katie was our main character and ended up being my only major problem with the book. She is a foreigner in Japan, which of course would be a difficult transition, but I had a problem distinguishing her from any other main character. Sure, she's brave and smart and has unique powers – but what fantasy lead doesn't? I really was not a huge fan of her character and just wished that she had been given some unique feature that I could take away from, especially in her personality. Also, she falls in love with Tomohiro, a bad boy. I liked their early relationship with all the back and forth banter, but it developed way too quickly after that and became a lot of insta-love. Especially at the end of the book, that is so obvious. I wanted her to separate herself a little bit from him in her decisions, but that didn't work out. I hope that their relationship expands some more in the next book and also that Katie really flourishes as a character.
The plot was really amazing and what I enjoyed the most. I was a little confused with the idea at first, but I think that I caught on by the end of the book. Tomohiro has the power of ink and can make drawings come to life. Super cool, right?? I loved reading about all the things that he could draw (being artistically untalented myself) and the consequences of that. There are all types of Japanese mythologies involved here and I liked learning about that too because I don't really know too much about it. The addition of the Japanese gangsters  and the twist at the end also added to lots of enemies for Katie and Tomohiro by the end. With the next book, I am really hoping that there is some more of that involved!
Overall, I enjoyed this book. It was a fun, fast-paced read and I loved the inclusion of Japanese culture and mythology. The major downsides that I had were the insta-love romance and the main character, but I am looking forward to seeing what happens in the next book!