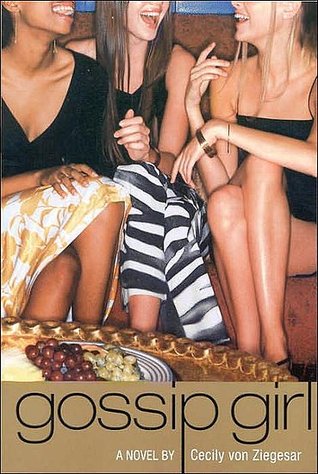 Gossip Girl by Cecily von Ziegesar (Gossip Girl #1)
Published Little Brown 2002
Genre: Young Adult Contemporary
Format: Kindle ebook
Welcome to New York City's Upper East Side, where my friends and I live, go to school, play, and sleep—sometimes with each other.
S is back from boarding school, and if we aren't careful, she's going to win over our teachers, wear that dress we couldn't fit into, steal our boyfriends' hearts, and basically ruin our lives in a major way. I'll be watching closely . . .
You know you love me,
gossip girl
I recently have become obsessed with this TV show – binge watching it all on Netflix. Naturally, I had to pick up the book in order to see how it would compare with everything in the show.
The TV show and the book are totally different, so I am not worried about getting the two confused. Anyway, this is the ideal chick-lit book. It is filled with boys and drama and all the glitz of the Upper East Side. It is a very crazy place and certainly somewhere I would never want to be. One of things that I did really like about this book was how it all predicted this obsession with real people that we now have in reality television. It really is ahead of its time.
This book was kind of weird because of the way it was written. I found myself stumbling over some awkward sounding sentences or ones that seemed too mature for the overall tone that was much lighter and younger sounding. The plot of this was pretty close to the show, although the characters were different. Maybe it is just because I have fallen in love with the show first, but I liked the changes that they made, especially with Dan's character. He just seems more real.
Overall, I felt like this was okay. It is not my new favorite series, but it is fun and I will probably be picking the next book up next time that I am in a reading slump and need something quick.