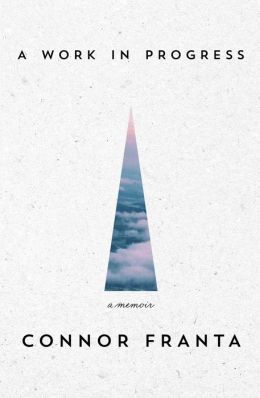 A Work in Progress by Connor Franta
Published Atria/Keywords 2015
Genre: Nonfiction Memoir
Format: Kindle ebook
In this intimate memoir of life beyond the camera, Connor Franta shares the lessons he has learned on his journey from small-town boy to Internet sensation—so far. Here, Connor offers a look at his Midwestern upbringing as one of four children in the home and one of five in the classroom; his struggles with identity, body image, and sexuality in his teen years; and his decision to finally pursue his creative and artistic passions in his early twenties, setting up his thrilling career as a YouTube personality, philanthropist, entrepreneur, and tastemaker.
Exploring his past with insight and humor, his present with humility, and his future with hope, Connor reveals his private struggles while providing heartfelt words of wisdom for young adults. His words will resonate with anyone coming of age in the digital era, but at the core is a timeless message for people of all ages: don't be afraid to be yourself and to go after what you truly want.
This full-color collection includes photography and childhood clippings provided by Connor and is a must-have for anyone inspired by his journey.
I have been reading quite a few books by YouTubers lately – Dan Howell and Phil Lester's, Grace Helbig's, Mamrie Hart's. However, this one is going to take the position as my favorite book by a YouTuber so far.
The concept of YouTubers writing books makes me slightly uncomfortable, at first. I don't really like the idea of them taking the spots in bookstores that other authors would typically get, but I am always up for more interest in the publishing world and more people reading. Plus, I am a huge fan of some of these YouTubers. I have followed Connor Franta for a while now, certainly not since the beginning of his career or anything. However, I really appreciate his videos because of how visually stunning they are. His photography in this book shows just how amazing he is as an artist, his multi talented book of skills, and gives him that extra edge in terms of all the other shelves of YouTuber books.
I think that Franta really took this book in stride – he realizes that he is young and probably not in the typical position for this type of thing and that works. It gives a good look into his life until now, but also recognizes that he doesn't know everything and that there is even more stuff that will happen to him after this. I really think that his writing was pretty good. Some parts of it seemed a little too *YouTube* for me with lots of actions described and some weird vernacular, but other than that, it read pretty easily.
This book is definitely something that I related to as we are both at similar points in life. I mean, I am not very similar to Franta in many ways, but there is still a connection that I feel to him. He's very relatable and personable, so that really comes through in this. If you aren't a fan of him already, you probably will feel at least a little closer to him after this.