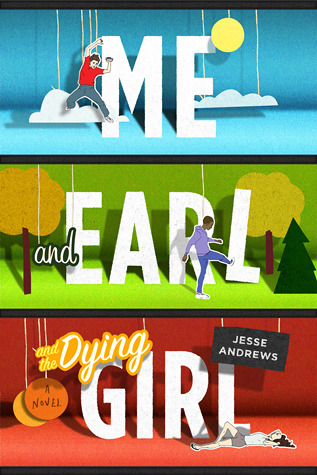 Me and Earl and the Dying Girl by Jesse Andrews
Published Amulet 2012
Genre: Young Adult Contemporary
Format: Kindle ebook
Greg Gaines is the last master of high school espionage, able to disappear at will into any social environment. He has only one friend, Earl, and together they spend their time making movies, their own incomprehensible versions of Coppola and Herzog cult classics.
Until Greg's mother forces him to rekindle his childhood friendship with Rachel.
Rachel has been diagnosed with leukemia—-cue extreme adolescent awkwardness—-but a parental mandate has been issued and must be obeyed. When Rachel stops treatment, Greg and Earl decide the thing to do is to make a film for her, which turns into the Worst Film Ever Made and becomes a turning point in each of their lives.
And all at once Greg must abandon invisibility and stand in the spotlight.
This book has been on and off my TBR for years. I have picked it up from the library, bought it, and downloaded it on my Kindle multiple times but never got to it. I kept pushing it off for other things, mostly because I have not had much success with cancer related YA (think The Fault in Our Stars). People told me this would be different though, so this time, I finally went through with it and read it!
I LOVED this book. Honestly, it did not even feel like reading. I am very busy right now with college, so my reading time has gone down substantially, but I always wanted to come back to this every night. I loved the way that Greg writes this novel. He is so sharp and witty, causing me to laugh out loud sometimes about his funny narration. Greg is very self depreciating and aware of his own faults. Even better is his friend Earl, who adds the perfect balance to Greg's story.
This whole book is not like the typical cancer book – there is no message being shoved down our throats. We really only understand this issue for a very short time period, just like Greg. The short length of this makes it a little detached from the situation, but that does not decrease any of the feels. I totally felt for every character in this book, including all their frustrations and problems. There is no perspective from Rachel and we don't spend much time with her. However, this book still left me in tears at the end.
This is truly an amazing book. It is able to do so much without really doing anything. The narration of the book is so strong that it pulls through the lack of plot and underlying theme, yet it somehow makes up for it. This is definitely a new favorite for sure and I cannot believe I put it off for so long!