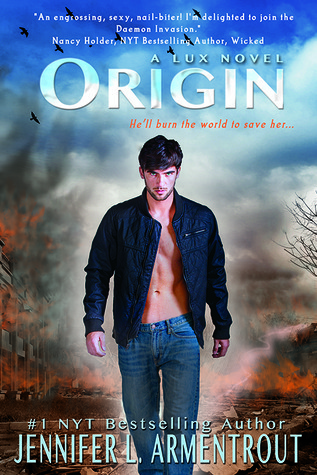 Origin by Jennifer L. Armentrout (The Lux #4)
Published Entangled 2013
Genre: Young Adult Sci-Fi
Format: Kindle ebook
This review has spoilers for books 1-3 of the Lux series! There will be no spoilers for this book, Origin. Only proceed if you have read the first three books. 
Daemon will do anything to get Katy back.
After the successful but disastrous raid on Mount Weather, he's facing the impossible. Katy is gone. Taken. Everything becomes about finding her. Taking out anyone who stands in his way? Done. Burning down the whole world to save her? Gladly. Exposing his alien race to the world? With pleasure.
All Katy can do is survive.
Surrounded by enemies, the only way she can come out of this is to adapt. After all, there are sides of Daedalus that don't seem entirely crazy, but the group's goals are frightening and the truths they speak even more disturbing. Who are the real bad guys? Daedalus? Mankind? Or the Luxen?
Together, they can face anything.
But the most dangerous foe has been there all along, and when the truths are exposed and the lies come crumbling down, which side will Daemon and Katy be standing on?
And will they even be together?
I was really disappointed with this one. My ratings for each of these books have gone down as I have gone through the series, which leaves me very nervous for my opinion on the last book. However, this is many people's favorite book in the series, so it might just be me.
My main problem with this book was that I didn't care. With this type of situation, Kat being captured and maybe being tortured, I need some tension. I need to not know what is going to happen. One of the biggest parts of this book is that they are separated and are dealing with multiple perspectives now. But I didn't care. There was no tension because everything felt predictable and I wasn't worried about the fate of any of the characters. I could see most of the twists coming from right away. I wanted more out of this to make everything else seem worth it, but it wasn't working.
In addition to the plot lacking on that side, it gave more time for Katy and Daemon's romance to get even stronger. While I like them as a couple, I don't want it to be in my face all the time when there are important alien-saving-the-world things to do as well. It was really annoying to keep hearing about their sexy times together instead of what I was actually here for – really cool aliens. That made me get annoyed with them as a couple, which does not bode well for the next book. I just wanted them to stop, especially after I realized how quickly this all happened after they met. Can someone say insta-love?
The writing is fun and fast paced, like all of Armentrout's books. I finished this one in a couple of days and wasn't able to put it down. It has a fun and addictive writing style that I could see working for many people. Maybe I wasn't in the mood during that time, but I didn't enjoy it as much as I did with the other three books. I was really hoping for some more depth out of this.
Overall, I wasn't impressed with this fourth book. I wanted more plot and less romance. I feel like five books is much too long for this series, characters, and plot. Maybe it will make sense with the last one, but I'm not sure.