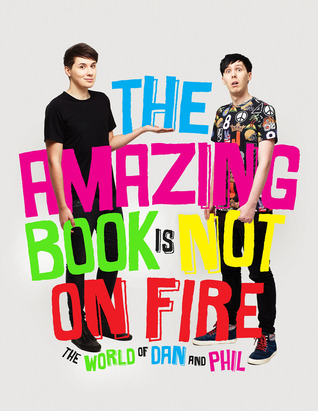 The Amazing Book Is Not On Fire by Dan Howell and Phil Lester
Published Ebury 2015
Genre: Nonfiction Memoir
Format: Kindle ebook
Hello reader,
In this book is a world. A world created by two awkward guys who share their lives on the internet!
We are Dan and Phil and we invite you on a journey inside our minds! From the stories of our actual births, to exploring Phil's teenage diary and all the reasons why Dan's a fail.
Learn how to draw the perfect cat whiskers, get advice on what to do in an awkward situation and discover which of our dining chairs represents you emotionally. With everything from what we text each other, to the time we met One Direction and what really happened in Vegas…
It's no secret that I LOVE Dan and Phil. I literally wrote a post about them earlier this year. They have been a big part of my life and it's a miracle I haven't bought everything from their fan shop. I eagerly await the day that I can meet them. Anyway, I'm going to stop now before I go full on fangirl mode for them. But I preordered this book when it was announced and the release of this made my top 3 events of this past week.
This book reminds me so much of Dan and Phil. While I already knew a lot of it from watching their videos multiple times, there was still new information, new pictures, and new stories from both of their lives. I loved how they talked about their younger lives and then their time on YouTube, all the way up until now. Dan and Phil's story of how they met is in here, as well as how they started working together and living together. Their friendship truly inspires me. As well as their work on YouTube, which is documented here perfectly. I liked their takes on the community that they have established, as well as the genuine thankfulness and humility they have towards everything that has happened. Dan's note in the conclusion might have made me teary-eyed. But don't worry, even if you aren't a massive fan of Dan and Phil, I think you will still enjoy this. It's a good look into both of their lives and exploring what it is like to be a YouTuber. They do a great job of exploring themselves and their 'brands' in this book. They wanted it to be a memoir of everything that they have built online, and they were successful in that.
The one major complaint I have for this book is the formatting. I got this book on Kindle so I could have it right when it released, but the formatting was really off. There were some pages that I couldn't read because they showed up so small on the page and I missed some things because of that. I might go get the physical book later, but it was disappointing to have that happen. Because of that, I would suggest buying a physical copy of this. It's probably really beautiful in person too.
I also think that this was really well written. Dan and Phil are not the most eloquent people, but they make good authors. They know how to transfer their style on YouTube into text, incorporating everything that you love about them. It makes the book really fun and dives even deeper in what they have done online. It's not great literature, but it works for what they are doing.
Overall, I really enjoyed this. It made me love them even more (if that's possible) and I am proud to be fans of them. You can see their hard work and motivation throughout this entire book, as well as all of their fun quirks they embrace. The only thing that makes me take off a star is the formatting on the Kindle version.