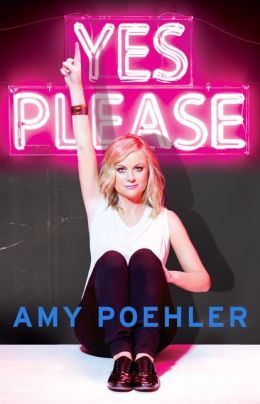 Yes Please by Amy Poehler
Published HarperCollins 2014
Genre: Nonfiction Memoir
Format: Kindle ebook
IN A PERFECT WORLD…
We'd get to hang out with Amy Poehler, watching dumb movies, listening to music, and swapping tales about our coworkers and difficult childhoods. Because in a perfect world, we'd all be friends with Amy — someone who seems so fun, is full of interesting stories, tells great jokes, and offers plenty of advice and wisdom (the useful kind, not the annoying kind you didn't ask for, anyway). Unfortunately, between her Golden Globe-winning role on Parks and Recreation, work as a producer and director, place as one of the most beloved SNL alumni and cofounder of the Upright Citizens Brigade, involvement with the website Smart Girls at the Party, frequent turns as acting double for Meryl Streep, and her other gig as the mom of two young sons, she's not available for movie night.
Luckily, we have the next best thing: Yes Please, Amy's hilarious and candid book. A collection of stories, thoughts, ideas, lists, and haiku from the mind of one of our most beloved entertainers, Yes Please offers Amy's thoughts on everything from her "too safe" childhood outside of Boston to her early days in New York City, her ideas about Hollywood and "the biz," the demon that looks back at all of us in the mirror, and her joy at being told she has a "face for wigs." Yes Please is a chock-full of words and wisdom to live by.
Amy Poehler is probably the queen of comedy in our day. She's funny, witty, and very classy for someone involved in the Hollywood business. Personally, the only work that I have seen from her is all of Parks and Recreation and Inside Out. Not exactly a whole lot compared to everything she's done, but enough for me to admire her as an actress and a person. But, this book just didn't pull it off for me.
Amy Poehler's life is interesting, and while I think that she could write her own memoir, in some ways, I felt like this book was too early. It was a lot of reflecting on her life during her years trying to get started in comedy and working on Saturday Night Live. But sometimes, it almost felt like she was trying too hard to make it beautiful. That didn't really work all the time. I loved some of the chapters – the one about working on SNL after 9/11, the chapter about her two sons, her inside look into award shows, her tribute to her Parks and Rec cast. All very good. The rest, I either don't remember or didn't enjoy. None of it made me really connect with her as a person, but it just made me kind of annoyed with her. Not really the idea for a memoir.
Maybe because of the way this was told, I didn't really understand all of it as someone who hasn't had too much experience with Amy Poehler outside of Joy and Leslie Knope. But it jumped around to many different time periods in her life, going from her early childhood to her years in Chicago to Saturday Night Live. I really prefer things in chronological order and I think it would have helped in this case. Also, there were some random parts that I didn't understand why they were included. It was a very strange book because it was written at a weird time and that made it not work as a memoir.
Overall, I wasn't a big fan of this book. It was okay, but for a memoir, it didn't make me fall in love with Amy Poehler, rush to get more of her work, or even really take some of her advice. I did like parts of it, and some things worked on the motivational side, but it just didn't really work out in the end.