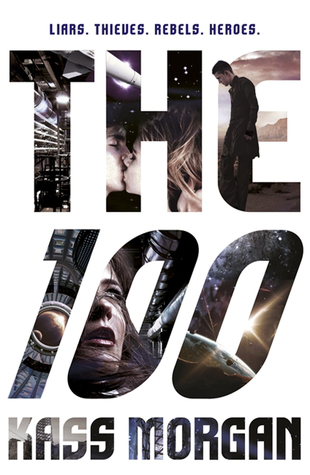 The 100 by Kass Morgan (The Hundred #1)
Published Little Brown 2013
Genre: Young Adult Dystopian
Format: I received an e-book of this from the publisher and NetGalley for review consideration. This did not affect my opinion of this book or the content of my review in any way.
No one has set foot on Earth in centuries — until now.
Ever since a devastating nuclear war, humanity has lived on spaceships far above Earth's radioactive surface. Now, one hundred juvenile delinquents — considered expendable by society — are being sent on a dangerous mission: to recolonize the planet. It could be their second chance at life…or it could be a suicide mission.
CLARKE was arrested for treason, though she's haunted by the memory of what she really did. WELLS, the chancellor's son, came to Earth for the girl he loves — but will she ever forgive him? Reckless BELLAMY fought his way onto the transport pod to protect his sister, the other half of the only pair of siblings in the universe. And GLASS managed to escape back onto the ship, only to find that life there is just as dangerous as she feared it would be on Earth.
Confronted with a savage land and haunted by secrets from their pasts, the hundred must fight to survive. They were never meant to be heroes, but they may be mankind's last hope.
I haven't seen the TV show of this yet, but I wanted to read this book first before I started. I'm so happy I read this though and I can't wait to start binge watching the series on Netflix! Anyway, getting a copy of the publisher was also great because it pushed me forward to read and when I found myself in the mood for a sci-fi, I was ready to pick this up.
I know that the book doesn't really have great reviews, but I LOVED this. It wasn't great literature, but it was fun. I like this type of story, with the ships in space and the world being destroyed and returning back to the world. Essentially, Wall-E is my movie. But I also loved this world and the new take on the entire thing. The only thing I really wanted out of the world was a little bit more detail about why they left, the theories on the ship, and how everything in the world got there. It's very Hunger Games – esque in the way that it puts us right in the middle of the world, instead of going backwards. Not necessarily bad, but I hope it establishes itself more in the next book.
The characters were interesting and I loved the presence of the two strong women. Clarke was great and I liked the way she got up and took a leadership role. She's powerful and awesome for the other 100. I also liked Glass and the connection back to the ship, as well as her personal story with Luke. It added another layer of what was happening and continued the intrigue. I wasn't a huge fan of Bellamy or Wells, but I think they could improve a lot. They pretty much just served to be romantic interests for Clarke, and while it was a little insta-lovey, I think that it could get a lot better in the future books as their characters develop more.
The plot was great and I liked all of the suspense. It's a very interesting concept and it is pulled off well. I wanted them to explore a little more, but I also understand why they decided to stay in the same camp the whole time. This book takes place over a short time period, but so much happens and there are a lot of hard decisions that have to be made. The world that the Earth has become is kind of like what it is now, but I want to see more of it in the next book too.
Overall, I had a great experience reading this book. It was exactly what I was looking for at the time of reading it and I can't wait to continue with the series. While this book did a lot of setting up for the action, I think the next one should really take off!