Hello everyone! Today, I'll be doing the Dreamland tag. This was created by Epic Reads in order to celebrate the release of Dreamland by Robert L. Anderson.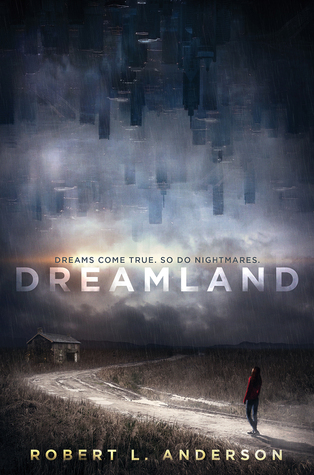 Odea Donahue has been able to travel through people's dreams since she was six years old. Her mother taught her the three rules of walking: Never interfere. Never be seen. Never walk the same person's dream more than once. Dea has never questioned her mother, not about the rules, not about the clocks or the mirrors, not about moving from place to place to be one step ahead of the unseen monsters that Dea's mother is certain are right behind them.

Then a mysterious new boy, Connor, comes to town and Dea finally starts to feel normal. As Connor breaks down the walls that she's had up for so long, he gets closer to learning her secret. For the first time she wonders if that's so bad. But when Dea breaks the rules, the boundary between worlds begins to deteriorate. How can she know what's real and what's not?
I love the cover for this book and although I'd never heard of it before this tag, I'm excited to pick it up soon. There are six questions:
1. Who would be your dream book boyfriend or book girlfriend?
Obviously – Cricket from Lola and the Boy Next Door by Stephanie Perkins. There is no other option for me.
2. If you could walk into anyone's dreams, real or fictional, whose would you walk into?
Probably Ron from Harry Potter. He would probably have interesting dreams, combined with him being a wizard and all that.
3. Which YA romance is the all time dreamiest?
This is kind of like asking for my OTP – I can't choose! Recently, I loved the romance between Sloane and James from The Program by Suzanne Young.
4. Have you ever had a dream you wished were true?
I think so, but I actually have a hard time remembering my dreams when I wake up. I have had some that I thought were true and I still kind of do.
5. If you were on Freud's couch, what would he say about you based on your dreams?
Probably that I should stop reading before bed because I dream about A LOT of fictional characters and plots.
6. What is the weirdest dream you ever had?
I had a dream my high school burned down, but I was too worried about getting a popsicle inside to focus on anything else. I made it out alive, but never got the popsicle.
I'd love to hear about some of your dream experiences! I'm not going to tag anyone directly, but you all should definitely do this. It was so much fun.