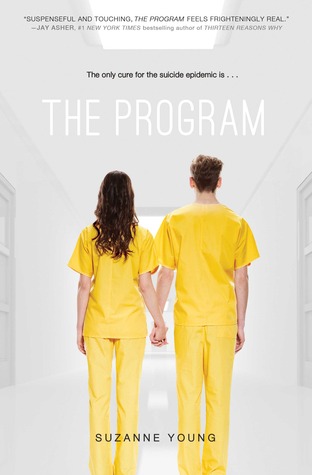 The Program by Suzanne Young (The Program #1)
Published Simon Pulse 2013
Genre: Young Adult Dystopia
Format: Kindle ebook
In Sloane's world, true feelings are forbidden, teen suicide is an epidemic, and the only solution is The Program.
Sloane knows better than to cry in front of anyone. With suicide now an international epidemic, one outburst could land her in The Program, the only proven course of treatment. Sloane's parents have already lost one child; Sloane knows they'll do anything to keep her alive. She also knows that everyone who's been through The Program returns as a blank slate. Because their depression is gone—but so are their memories.
Under constant surveillance at home and at school, Sloane puts on a brave face and keeps her feelings buried as deep as she can. The only person Sloane can be herself with is James. He's promised to keep them both safe and out of treatment, and Sloane knows their love is strong enough to withstand anything. But despite the promises they made to each other, it's getting harder to hide the truth. They are both growing weaker. Depression is setting in. And The Program is coming for them.
This was one of those amazing books that only comes around once in a while that pulls me in from the first line and doesn't let me go until the last page. And even then, I haven't really been let go because I need the sequel. Thankfully, the sequel for this book is already out.
I LOVED THIS BOOK.
I have always been a fan of dystopia, even though the market got saturated with them a while ago. However, I will still try them and see if I can find a hidden gem I missed years ago. This is one of them.
First, the world. It's not too far in the future, but suicide has gotten so bad that nearly 1 in 3 teens are committing suicide. The US comes up with the Program in order to combat all these deaths, but it's a problematic situation. When they return from the Program, all their memories are gone and they are never the person they were before. I found this world to be very realistic in a scary way, exactly what dystopians are supposed to be. Mental problems are tied to personality in the brain (or at least, that's what I've heard) and some of our worst memories transform who we are. This book pulled up a major moral issue and I still have no idea what I would do. But I love the point that the Program made. (Also, don't worry – it's not turning suicide into a 'disease.' The problem they have is that people feel so saddened by these deaths that they themselves become depressed and it is a never ending cycle.)
Sloane is a great main character. She's not a Mary Sue and she doesn't get everything right. Sloane makes lots of bad decisions, but also some good ones. Her conflicts felt real and I connected with her on an emotional level. I also loved her relationship with her friends, but especially her boyfriend, James. I liked seeing a couple that started before the book began and how that affected everything.
The writing is the main thing I have to commend. I love how Young wove together flashbacks and the present. She covered harsh issues and dark scenes. The characters were great and fleshed out. The action was fast paced, but also not too fast that I didn't know what was happening.
Overall, I loved this book. It's one of my favorite dystopians and I'll be reading the sequel very soon.