It's time for my August wrap up! I had a pretty average reading month, as I expected because I went back to school halfway through the month. The first week is hard to fit reading in, but after that, I've found a really good schedule that I can stick to throughout the year. I think the most disappointing thing about this month was the lack of books that I LOVED. You can see the breakdown here: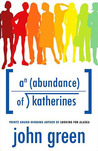 Bookish Bingo Update
This is my final post for this card, hosted by Pretty Deadly Reviews! I was able to get 7 Bingos for this card, mostly thanks to my reading in June and July. Here's what I added this month:
Purple Cover – Unleashed
Short Story – Kisses and Curses
Travel – An Abundance of Katherines
Only two away from a blackout!
How was your August in reading?