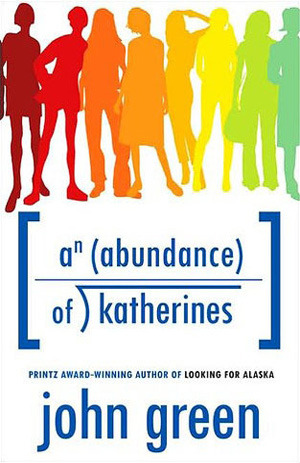 An Abundance of Katherines by John Green
Published Dutton Books 2006
Genre: Young Adult Contemporary
Format: Paperback
Katherine V thought boys were gross
Katherine X just wanted to be friends
Katherine XVIII dumped him in an e-mail
K-19 broke his heart
When it comes to relationships, Colin Singleton's type happens to be girls named Katherine. And when it comes to girls named Katherine, Colin is always getting dumped. Nineteen times, to be exact.
On a road trip miles from home, this anagram-happy, washed-up child prodigy has ten thousand dollars in his pocket, a bloodthirsty feral hog on his trail, and an overweight, Judge Judy-loving best friend riding shotgun–but no Katherines. Colin is on a mission to prove The Theorem of Underlying Katherine Predictability, which he hopes will predict the future of any relationship, avenge Dumpees everywhere, and finally win him the girl. Love, friendship, and a dead Austro-Hungarian archduke add up to surprising and heart-changing conclusions in this ingeniously layered comic novel about reinventing oneself.
4 John Green books down. 2 to go.
So far, this isn't my favorite. That award still goes to Paper Towns. But, this is my second favorite (beating out Will Grayson and The Fault in Our Stars).
This book is very interesting because not very much actually happens. It takes place over only a couple of weeks, and what initially seems like a road trip plot stays in the same small Tennessee town. There isn't really much plot wise either. But somehow, through it all, everything that should work against this book works for it.
I loved Colin. He's a smart kid but he struggles with that and as someone who grew up in the gifted/talented program, I felt his struggle to be something more than his intelligence. The friends I had that treated me like Hassan, not as a student but a person, were my favorite people. Colin is socially awkward, but has managed to get nineteen girlfriends in some way or the other. Some don't really count as girlfriends, but friendships that slightly developed into more.
My favorite thing about this book is the relationship between Hassan and Colin. Friendships in Green's books are always great! Hassan and Colin have inside jokes, something I've been waiting for in a friendship. They have a relationship that pulls at each other and encourages them to be better. I loved the way this was written and it was pretty much exactly what I've been looking for.
The romance is a pretty big point here too, although not the most important. It is a little cliche in the way it all happens, but that makes it fun. Plus, Hassan is a great character to have in dramatic situations. This is a really fun book, and I enjoyed it, but I missed a spark that I needed to take this from a good book to a great book.
Overall, I liked this book. It gets a lot of things very right and I think I'll definitely be finishing out Green's books. Who knows, maybe I'll even try TFiOS again.