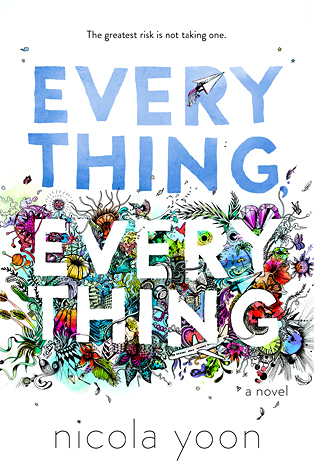 Everything, Everything by Nicola Yoon
To be published Delacorte September 1 2015
Genre: Young Adult Contemporary
Format: I received an e-ARC copy of this book from the publisher and NetGalley in exchange for review consideration. This does not affect the content of this review or my opinions in any way.
This innovative, heartfelt debut novel tells the story of a girl who's literally allergic to the outside world. When a new family moves in next door, she begins a complicated romance that challenges everything she's ever known. The narrative unfolds via vignettes, diary entries, texts, charts, lists, illustrations, and more.
My disease is as rare as it is famous. Basically, I'm allergic to the world. I don't leave my house, have not left my house in seventeen years. The only people I ever see are my mom and my nurse, Carla.
But then one day, a moving truck arrives next door. I look out my window, and I see him. He's tall, lean and wearing all black—black T-shirt, black jeans, black sneakers, and a black knit cap that covers his hair completely. He catches me looking and stares at me. I stare right back. His name is Olly.
Maybe we can't predict the future, but we can predict some things. For example, I am certainly going to fall in love with Olly. It's almost certainly going to be a disaster.
I think this book suffers from the very thing that ruined The Fault in Our Stars for me. And, of course, I also mean that EVERYONE loves this book, but I was not too happy with the way this turned out. I didn't like the characters, so I didn't like the romance.
First of all, I was spoiled before reading this book. It was probably an accident, but it happened. I knew about the big twist at the ending (don't worry – I'm not going to spoil it for y'all too!) and I was actually waiting for it the whole time. Plus, there were so many people that had hyped this book up for me and it didn't live up to any of my expectations.
The main problem I had with this book was the romance. I didn't like Madeline or Olly. And there was some major insta-love problems. I felt like their relationship didn't really make sense. They talked for a while over IM (which also – who does that anymore?) and then, Madeline RISKS HER LIFE to see him. I didn't feel anything for them. Both characters were developed with their likes and interests and I could totally understand their friendship. But why did they have to be in love? And so quickly? I felt like Madeline dealt with her emotions toward Olly in a very strange way, especially considering that she had never had any human interactions – friendship or more. Her whole life changes when she sees him jumping around outside. I'm sure she's had neighbors before though…
Also, I didn't understand Madeline's sickness or the world she lived in. Why was everything white? She wasn't allergic to color so… And why was the door such a problem? There is one time that she easily goes outside and then another time, she has to break this lock and do the code and all that. I really wanted to learn more about the disease she has and to have a realistic depiction of how this was handled.
This is a very short book, so I wish this was longer. I read the whole thing in just a couple of hours, and it was a nice read. I didn't feel too bored while reading it and it was entertaining. The ending, not even the twist, felt totally out of place. I wish the book had taken a different turn about halfway through. It really could have packed more of a punch.
Overall, this is a hard book for me to review. I know so many people loved it, so I would suggest it to you. I had some major problems with the romance and not feeling the characters were dimensional off-the-page, especially when making decisions. I'm still pretty iffy about it, to be honest.