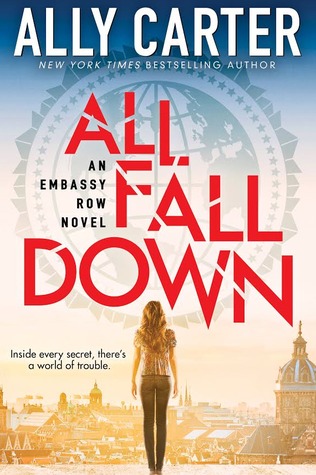 All Fall Down by Ally Carter (Embassy Row #1)
Published Scholastic 2015
Genre: Young Adult Mystery
Format: Hardback
A new series of global proportions — from master of intrigue, NEW YORK TIMES bestselling author Ally Carter.
Grace Blakely is absolutely certain of three things:
1. She is not crazy.
2. Her mother was murdered.
3. Someday she is going to find the killer and make him pay.
As certain as Grace is about these facts, nobody else believes her — so there's no one she can completely trust. Not her grandfather, a powerful ambassador. Not her new friends, who all live on Embassy Row. Not Alexei, the Russian boy next door, who is keeping his eye on Grace for reasons she neither likes nor understands.
Everybody wants Grace to put on a pretty dress and a pretty smile, blocking out all her unpretty thoughts. But they can't control Grace — no more than Grace can control what she knows or what she needs to do. Her past has come back to hunt her . . . and if she doesn't stop it, Grace isn't the only one who will get hurt. Because on Embassy Row, the countries of the world stand like dominoes, and one wrong move can make them all fall down.
This was such a fun book. I love picking up books by Ally Carter because I always know the exact type of read that I am going to get – something fast paced and exciting.
All Fall Down takes place in a fictional country (I kinda felt like it was Southern Italy-inspired? Maybe?) and lives on Embassy Row with lots of other ambassadors' kids. I liked how they talked about the countries, like 'I was half-way to Japan when…' (for example). It added a sense of familiarity that the kids had with their surroundings and the very special way that they grew up. They all are constantly on the go and living around people from different parts of the world, but it doesn't feel too different because they were all stationed in the same place. I loved the vibe that it gave their friendships.
Grace is a really strong female lead. She's an untrustworthy narrator because she can't remember what happened on the night her father died. I enjoy reading untrustworthy POVs and trying to figure out what really happened. There was always a subtle hint of something in Grace's narrative not being correct, and I liked how all these pieces came together in the end. I felt like between that mystery and the mystery between Grace and her mother's killer, there are so many moving pieces that all come together.
This book is really fast paced and fun to read. The characters are all quirky in their own ways and are really funny. I do wish there was a little more build up for a few of the romances, but that wasn't the main point, so I get it. Also, there are so many different friendships and types of people in this and it is very diverse and realistic!
Overall, I really enjoyed reading this. It was a quick read and something that I totally lost myself in. I would suggest this to fans of mystery and previous Ally Carter-style books.