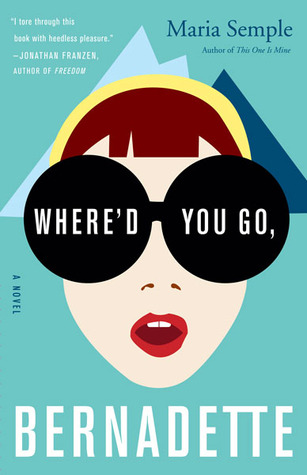 Where'd You Go, Bernadette by Maria Semple
Published Little Brown 2012
Genre: Adult Mystery
Format: Hardback
Bernadette Fox is notorious. To her Microsoft-guru husband, she's a fearlessly opinionated partner; to fellow private-school mothers in Seattle, she's a disgrace; to design mavens, she's a revolutionary architect, and to 15-year-old Bee, she is a best friend and, simply, Mom.
Then Bernadette disappears. It began when Bee aced her report card and claimed her promised reward: a family trip to Antarctica. But Bernadette's intensifying allergy to Seattle—and people in general—has made her so agoraphobic that a virtual assistant in India now runs her most basic errands. A trip to the end of the earth is problematic.
To find her mother, Bee compiles email messages, official documents, secret correspondence—creating a compulsively readable and touching novel about misplaced genius and a mother and daughter's role in an absurd world.
To be honest, this was a total cover read for me. I love the simple, graphic style of this and the pretty mint cover. I also happened to really be interested in the summary, and I thought it would be perfect as I try to pick up some more adult reads.
This is a great book to read if you are on the edge of young adult and adult books. There's nothing too sexual or graphic in this and I think that most young adult readers would love this. The mystery is a very small part of the book and only really starts about halfway into the book. The entire story is told using emails, letters, and a few pages of narration. For the most part, it is from the perspective of Bee, the daughter. However, we really get to see everyone involved with the story through the emails and the letters and the phone calls. Reading books told in other ways than just narrative is becoming very popular, and I liked the way that this was done so that I got to feel for every character and understand their motivations.
I felt like this was mostly a character book and not too much on the plot. Bernadette is a wacky character who does very strange, and often funny, things. She has a secretive past that is slowly revealed throughout the story. Her husband is the voice of reason within the family, but he has his own problems too. Another perspective I really enjoyed was that of Bernadette's enemy, a neighbor and judgmental mom. She's just about as wacky as Bernadette, but maybe more so because she takes herself so seriously.
For the mystery component of this, I liked how it was carried out. It's a predictable ending, but I liked how we got there. Bee is a very smart kid and her narration feels very real. This is a family oriented story and I feel like she was the perfect person to relate this to us.
Overall, I really enjoyed this! I had a lot of fun reading it, but it was also a meaningful read. It's a great bridge between adult and young adult.