Waiting on Wednesday is a weekly feature hosted by Breaking the Spine. This is for discussing some upcoming books! This week, I'm featuring: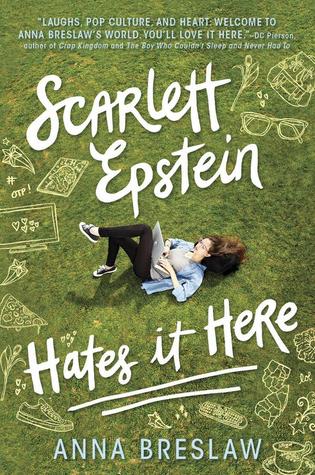 Scarlett Epstein Hates It Here by Anna Breslaw
To be published April 2016
Meet Scarlett Epstein, BNF (Big Name Fan) in her online community of fanfiction writers, world-class nobody at Melville High. Her best (read: only) IRL friends are Avery, a painfully shy and annoyingly attractive bookworm, and Ruth, her pot-smoking, possibly insane seventy-three-year-old neighbor.

When Scarlett's beloved TV show is canceled and her longtime crush, Gideon, is sucked out of her orbit and into the dark and distant world of Populars, Scarlett turns to the fanfic message boards for comfort. This time, though, her subjects aren't the swoon-worthy stars of her fave series—they're the real-life kids from her high school. And if they ever find out what Scarlett truly thinks about them, she'll be thrust into a situation far more dramatic than anything she's ever seen on TV.
I love Fanfiction/the fandom world and this sounds really cute! Also, yay for debuts!