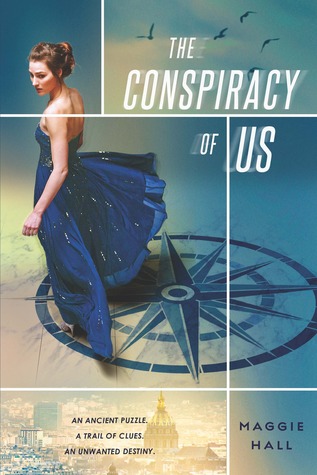 The Conspiracy of Us by Maggie Hall (The Conspiracy of Us #1)
Published Putnam 2015
Genre: Young Adult Mystery
Format: Hardback
A fast-paced international escapade, laced with adrenaline, glamour, and romance–perfect for fans of Ally Carter
Avery West's newfound family can shut down Prada when they want to shop in peace, and can just as easily order a bombing when they want to start a war. Part of a powerful and dangerous secret society called the Circle, they believe Avery is the key to an ancient prophecy. Some want to use her as a pawn. Some want her dead.
To unravel the mystery putting her life in danger, Avery must follow a trail of clues from the monuments of Paris to the back alleys of Istanbul with two boys who work for the Circle—beautiful, volatile Stellan and mysterious, magnetic Jack. But as the clues expose a stunning conspiracy that might plunge the world into World War 3, she discovers that both boys are hiding secrets of their own. Now she will have to choose not only between freedom and family–but between the boy who might help her save the world, and the one she's falling in love with.
I had so much fun reading this book and sometimes, that is all I care about when reading a book. I really enjoyed this book.
Avery finds an unique world within the Circle, filled with political drama. The main start of this book is about discovering the secrets of the Circle and fighting off the opposing families. They are the most powerful people in the world and control everything from politics to sports.
This book felt very much like an Ally Carter novel – lots of fun destinations (Paris! Istanbul!), cute boys, and high packed drama/mystery. I was always involved with what would happen next and it kept me on my toes. There also weren't any straight paths to anything. One clue would lead to another clue and so on. It kept the action interesting. There are two groups that are interested in what Avery and Jack are after, so that added intensity also keeps everything moving along. Many scenes are filled with narrow escapes and spy tactics in order to get what they want.
Avery was a really strong character. I liked her the most because of her relationships with her mother and the people that she met along her many moves around the country. It was really sad and it made me connect with Avery. Even though this is a kind of common trope, I connected with Avery because I believed it. She wasn't just saying it, but she was acting it too. Her relationships with both boys also added to her character and I liked knowing her through her relationships – something very common with real people and not just characters.
The romance in this book is really sweet. There is kind of a love triangle, but it's not the most important part of the story and it's pretty clear that Avery only feels for one side (compare to Sweet Evil). Anyway, Avery and Jack could even be considered insta-love. But I felt for them too. There is a passage in this book that talks about how relationships develop faster in high intensity situations, and I completely agree. Also, they knew each other for a while before the book began. Don't worry though – no crazy declarations of love! I totally ship Avery and Jack, although I'm nervous about the cliffhanger.
Overall, I found this book so much fun! I loved every page of it. I can't wait for the sequel and this was one of my favorite books of the year so far.