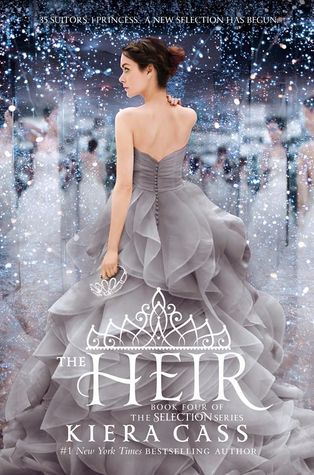 The Heir by Kiera Cass (The Selection #4)
Published HarperTeen 2015
Genre: Young Adult Romance
Format: Hardback
Princess Eadlyn has grown up hearing endless stories about how her mother and father met. Twenty years ago, America Singer entered the Selection and won the heart of Prince Maxon—and they lived happily ever after. Eadlyn has always found their fairy-tale story romantic, but she has no interest in trying to repeat it. If it were up to her, she'd put off marriage for as long as possible.
But a princess's life is never entirely her own, and Eadlyn can't escape her very own Selection—no matter how fervently she protests.
Eadlyn doesn't expect her story to end in romance. But as the competition begins, one entry may just capture Eadlyn's heart, showing her all the possibilities that lie in front of her . . . and proving that finding her own happily ever after isn't as impossible as she's always thought.
My immediate reaction (from goodreads): This was not a literary masterpiece – but I'm giving it five stars because of its huge improvement over the first three books in this series and for doing exactly what it set out to do. This book is meant to be fun and it provided a great, immersive reading experience. Overall, it reminded me why I love reading so much.
One of my favorite things about this series is that Kiera Cass knows the type of book she is writing and delivers. In one of her interviews, she describes her series as the 'comfort food' of books. I could not agree with that more – The Selection series is filled with fun drama, cute romance, and all things girly. There is no intense plot or dramatic situations, things that will keep you up at night. It's just the kind of book that you sometimes need to relax and have fun with.
This is my favorite installment so far. America is no longer the main character and we meet her daughter, Eadlyn. Eadlyn is the oldest child. A lot has happened since The One and the world has developed greatly. The castes are gone, as well as the Selection but there is still civil unrest as people find their new places in society. I liked Eadlyn more than America. Whereas America was really annoying and changed her mind all the time, at least Eadlyn was consistent. She is certainly annoying, not unlike real teens. She is initally against the new Selection, but she starts to get into it a little bit.
I liked seeing this process from the other side. Eadlyn has a lot to deal with, especially since it is a male selection. She has to deal with the aggression of the boys and that can be a little intense at times. She's a strong female character and I liked the love interests. I don't know who exactly I am pulling for yet though. Also, the politics in this are amped up a lot. We get some more interaction with the other countries and the revolutions happening in Illea.
Overall, this book did what it was supposed to do. It isn't great literature, but it was fun and a great comfort food novel. I could escape into this world for a few hours and have a great time reading. I can't wait for the final installment in this series.