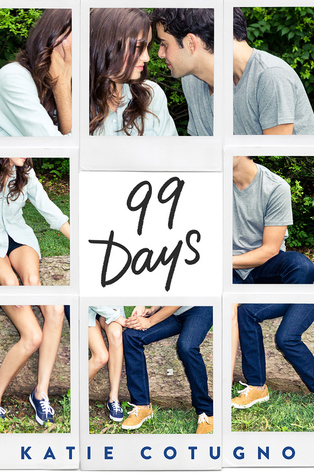 99 Days by Katie Cotugno
Published Balzer and Bray 2015
Genre: Young Adult Contemporary
Format: Hardback from the library
Day 1: Julia Donnelly eggs my house my first night back in Star Lake, and that's how I know everyone still remembers everything—how I destroyed my relationship with Patrick the night everything happened with his brother, Gabe. How I wrecked their whole family. Now I'm serving out my summer like a jail sentence: Just ninety-nine days till I can leave for college, and be done.
Day 4: A nasty note on my windshield makes it clear Julia isn't finished. I'm expecting a fight when someone taps me on the shoulder, but it's just Gabe, home from college and actually happy to see me. "For what it's worth, Molly Barlow," he says, "I'm really glad you're back."
Day 12: Gabe got me to come to this party, and I'm actually having fun. I think he's about to kiss me—and that's when I see Patrick. My Patrick, who's supposed to be clear across the country. My Patrick, who's never going to forgive me.
I picked this book up on a total whim, with a little idea about what it was about. I had seen a few mixed reviews, but I liked the cover enough to try it for myself.
AND WHOA THAT WAS GOOD.
I'm still kind of hung up about it – I keep thinking about it in random moments, wanting to revisit these characters and this story when choosing what to pick up next. It also caused me to be in a pretty bad book hangover for a while, but it was SO WORTH IT.
Molly is the main character and I really liked her. The story starts when her mother, a romance author, writes about the mistake she made. Molly cheated on her boyfriend with her boyfriend's brother. This causes a huge scandal within the family and in their small town, causing Molly to move across country for boarding school the next year. She comes back for the summer and is forced to look back at all her previous decisions.
I loved the conflict that was established. Just as Molly felt conflicted about everything that was happening and had happened, as well as very uncomfortable and awkward in most of her situations – so did I. I was able to step right into her mind and her story. That emotional connection was a character was something I haven't experienced in a very long time, so I highly appreciated how that happened.
This book has a very heavy love triangle – which I happen to enjoy in books, when well done. If you don't like this, don't read this book. It's sitting yourself up to not like this. If you are okay with it, this was one of the best ones I have ever seen. Gabe and Patrick were so different, even though they were brothers, and they both had so much drama. Nothing about the relationships in this book were easy and it proved to be a brilliant character study.
This book is messy. There is no easy answer, no clean cut ending, no right answers. I loved that. It made me totally feel for the story and the characters. I put myself right into the world, with all the close female friendships, a great love triangle, and all of the parental problems. I felt like this is not the book for everyone, but I'm happy I found it and gave it a chance. Overall, I really loved this book.