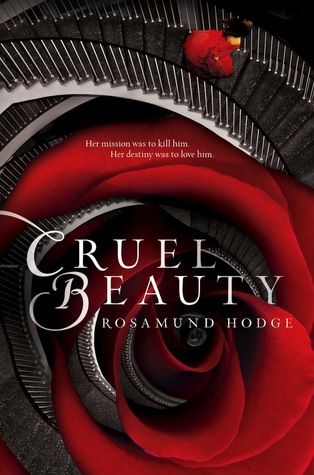 Cruel Beauty by Rosamund Hodge
Published Balzer and Bray 2014
Genre: Young Adult Fantasy
Format: Hardback
Graceling meets Beauty and the Beast in this sweeping fantasy about one girl's journey to fulfill her destiny and the monster who gets in her way-by stealing her heart.
Based on the classic fairy tale Beauty and the Beast, Cruel Beauty is a dazzling love story about our deepest desires and their power to change our destiny.
Since birth, Nyx has been betrothed to the evil ruler of her kingdom-all because of a foolish bargain struck by her father. And since birth, she has been in training to kill him.
With no choice but to fulfill her duty, Nyx resents her family for never trying to save her and hates herself for wanting to escape her fate. Still, on her seventeenth birthday, Nyx abandons everything she's ever known to marry the all-powerful, immortal Ignifex. Her plan? Seduce him, destroy his enchanted castle, and break the nine-hundred-year-old curse he put on her people.
But Ignifex is not at all what Nyx expected. The strangely charming lord beguiles her, and his castle—a shifting maze of magical rooms—enthralls her.
As Nyx searches for a way to free her homeland by uncovering Ignifex's secrets, she finds herself unwillingly drawn to him. Even if she could bring herself to love her sworn enemy, how can she refuse her duty to kill him? With time running out, Nyx must decide what is more important: the future of her kingdom, or the man she was never supposed to love.
I'm in the minority on this, but I did not enjoy Cruel Beauty.
At the beginning, I was really into it. It has a very unique writing style, but I found that it worked for the story. It had a dreamy quality, very detached from the story, but perfect for a fantasy/fairytale retelling. The plot was interesting and I liked the family dynamic and the world building, very reminiscent of Greek/Roman culture. It, however, took a turn for the worse once Nyx got inside Ignifex's castle.
There is a very strange love triangle set up in the book. I say strange because Nyx doesn't really consider either as legitimate options, there is a very strong case of instalove with one of them, and then that one disappears for the second half of the book. He comes back at the very end, but I was confused by his on-again off-again presence. Also, Nyx was really rash and irrational. Ignifex is a powerful ruler and feared by everyone in the town. Nyx talks back to him, never gives him a straight answer, and is rude. I did not expect her to act like that, especially when Ignifex has so much power.
As time went on in the book, I found it dragging more and more. The magic system was weird and I never really understood it. By the time I got to the end, I felt like the instalove was really strong and I didn't believe the relationship between Nyx and Ignifex at all. I was confused by the ending (maybe this is because I skimmed some in the middle), but I didn't like where it ended up.
I'm in the minority on this – but I did not find this book very enjoyable. Nyx and Ignifex are hard characters to like, but I believe that they could have been pulled off stronger while still using the same tropes they were offered. I like fairytale retellings, and this one was a nice adaption of Beauty and the Beast, but it didn't work for me overall. I just wish the momentum it started with in the beginning was continued throughout.