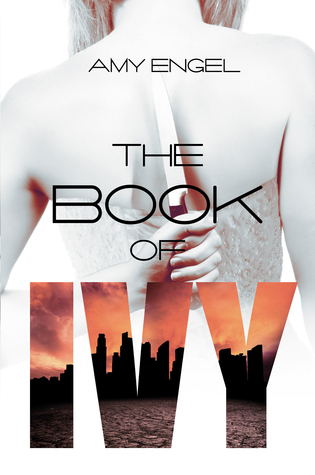 The Book of Ivy by Amy Engel (The Book of Ivy #1)
Published Entangled Teen 2014
Genre: Young Adult Dystopia
Format: Paperback
After a brutal nuclear war, the United States was left decimated. A small group of survivors eventually banded together, but only after more conflict over which family would govern the new nation. The Westfalls lost. Fifty years later, peace and control are maintained by marrying the daughters of the losing side to the sons of the winning group in a yearly ritual.
This year, it is my turn.
My name is Ivy Westfall, and my mission is simple: to kill the president's son—my soon-to-be husband—and restore the Westfall family to power.
But Bishop Lattimer is either a very skilled actor or he's not the cruel, heartless boy my family warned me to expect. He might even be the one person in this world who truly understands me. But there is no escape from my fate. I am the only one who can restore the Westfall legacy.
Because Bishop must die. And I must be the one to kill him…
I am SO EXCITED about this book. I still get excited when I think about it and all the feels that came along with reading it. This was a really outstanding dystopia for me, although I haven't read them in a while. I left that genre after the huge amount of books being published and they all started blending together. This one has consistently gotten great reviews, so I decided to pick it up.
This one plays on the classic arranged marriage but the girl plans to kill the boy trope. This is my favorite book I have read with it though. I truly felt conflicted between what Ivy had planned to do and her emotions when she got into the situation. I liked Ivy as a strong character, but she also had some moments of sincerity and emotionally engaging scenes. Bishop was a great character as well – totally swoonworthy. Bishop inspired a lot of conversation and helped pull out some themes in this book, especially those having to do with their influential family members.
I liked the plot and the pacing of this book as well. Even though the world is a classic example of dystopian, it uses that to its advantage. It does not have to spend a lot of time developing the world and the history, so that it can focus on the characters and the way that the world has developed after that. There are elements of 'what is beyond the fence' – something strong in Divergent – and I'm looking forward to see what develops with that in the second book. I was always excited to read this and ended up finishing it in two sittings. I would also really like to see this as a movie because it packed a dramatic punch.
Overall, I really loved this book. It had great characters and I was conflicted between the two sides, which is what I really wanted from this novel. It was fast-paced and intense and I can't wait for the sequel next year.