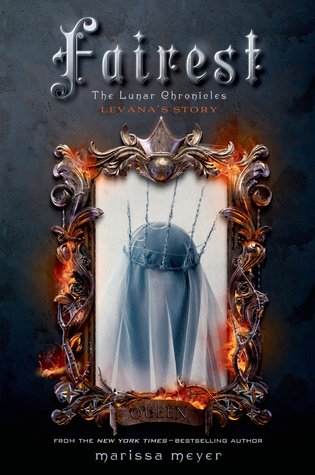 Fairest by Marissa Meyer (The Lunar Chronicles #3.5)
Published Feiwel and Friends 2015
Genre: Young Adult Fantasy
Format: Hardback
In this stunning bridge book between Cress and Winter in the bestselling Lunar Chronicles, Queen Levana's story is finally told.
Mirror, mirror on the wall,
Who is the fairest of them all?
Fans of the Lunar Chronicles know Queen Levana as a ruler who uses her "glamour" to gain power. But long before she crossed paths with Cinder, Scarlet, and Cress, Levana lived a very different story – a story that has never been told . . . until now.
Marissa Meyer spins yet another unforgettable tale about love and war, deceit and death. This extraordinary book includes full-color art and an excerpt from Winter, the next book in the Lunar Chronicles series.
The main thing that I took from this book is that I really need to reread the rest of the books in this series.
Starting this book was not good for me. I considered DNFing it for a while, until I realized I only had a 100 pages left and could push through until the end. The writing was not very powerful to me, although it is told in the same style as the rest of the books. There was something about it that felt very juvenile though. Maybe it is the third person perspective – which I am generally not a fan of – but it took me off guard at the beginning.
Another thing that bothered me about this book was the heavy emphasis on romance. There have been some problems with Cress having too much of an obsession with her love interest, but Levana was worse. I felt like the entire first part of this was about her trying to attract this married man, for a few unknown reasons. I know that Levana is an evil villain, but I was hoping there would be something else to spur this. It was major insta-love and I was disappointed with how it all happened.
The second half of this novella picked up. We got to see more of the characters we already know like Cinder, Kai, and Winter. These little cameos helped the novella so much. Levana comes into her own more instead of just playing the love interest. During this part, a little more about her past relationship with her older sister is discovered. I loved that so much more than the romance. It really seemed to push her to the vanity that we know of her. I just wanted more reasons behind her love for her planet or why she hates Earth or any of her political decisions in the Lunar Chronicles.
Overall, this novella didn't work for me. It never fully explained Levana's motives for loving Luna or wanting to get back at Earth so bad. The romance was too insta-love-y for me and I wanted a few extra details on pretty much everything. I'm interested to see what I think of the original first three books and I am hoping I'll be able to reread them soon.