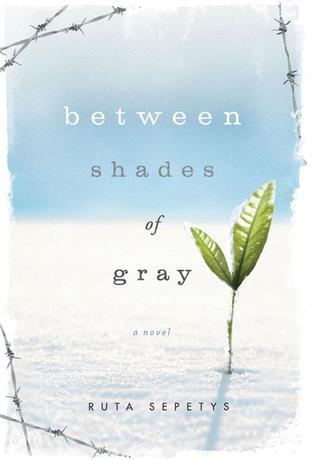 Between Shades of Gray by Ruta Sepetys
Published Philomel 2011
Genre: Young Adult Historical Fiction
Format: Paperback from the library
Lina is just like any other fifteen-year-old Lithuanian girl in 1941. She paints, she draws, she gets crushes on boys. Until one night when Soviet officers barge into her home, tearing her family from the comfortable life they've known. Separated from her father, forced onto a crowded and dirty train car, Lina, her mother, and her young brother slowly make their way north, crossing the Arctic Circle, to a work camp in the coldest reaches of Siberia. Here they are forced, under Stalin's orders, to dig for beets and fight for their lives under the cruelest of conditions.
Lina finds solace in her art, meticulously–and at great risk–documenting events by drawing, hoping these messages will make their way to her father's prison camp to let him know they are still alive. It is a long and harrowing journey, spanning years and covering 6,500 miles, but it is through incredible strength, love, and hope that Lina ultimately survives.Between Shades of Gray is a novel that will steal your breath and capture your heart.
This is an incredibly hard review for me to write, mostly because all I want to do is force all of you to read this book. Seriously, it is SO GOOD.
I cried while reading this book, multiple times actually. It is just that beautiful. I feel like this story gives a voice to all the millions of lives lost in WW2 through the Russian labor camps. Typically, when reading WW2 historical fiction, it is set in Nazi Germany and we read sad stories about people being inflicted by those horrors. This is a different take on the time period and something I really appreciated, especially being a history buff. This one takes a story that I didn't know much about and made it something that is so important. Lina loses her country to start with, but so much after that happens.
This book was hard to read, especially because of how much I connected with the characters. I couldn't stand to lose any of them. There were many different characters who all had different reactions to what was happening around them. In any one moment, I could understand how everyone was feeling. Lina's family was so tight knit and that was one of the hardest parts for me to read. I liked how her brother and her mother were there for her the whole time and promised to stick together through it all.
Just when you start getting comfortable and thinking that everything might get better, everything takes a turn for the worse. It's not a depressing book though. There are some great moments of hopefulness and first love and family ties and celebration. I loved seeing how the people around them helped each other to get through the situation and the community that was formed. It was truly touching to read about the characters and experience their struggles.
Overall, I LOVED this book. It was a beautifully told story that deserves its time in the spotlight. I could not suggest this enough, and not just for fans of historical fiction. I think anyone would love this timeless story.