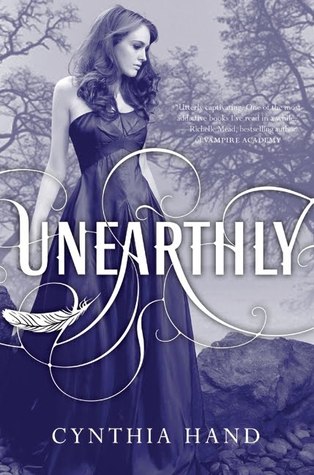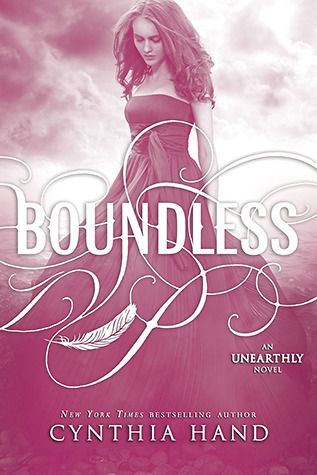 Unearthly Trilogy (Unearthly, Hallowed, Boundless) by Cynthia Hand
Published HarperTeen 2011, 2012, 2013
Genre: Young Adult Fantasy
(For book 1, Unearthly)
In the beginning, there's a boy standing in the trees…
Clara Gardner has recently learned that she's part angel. Having angel blood run through her veins not only makes her smarter, stronger, and faster than humans (a word, she realizes, that no longer applies to her), but it means she has a purpose, something she was put on this earth to do. Figuring out what that is, though, isn't easy.
Her visions of a raging forest fire and an alluring stranger lead her to a new school in a new town. When she meets Christian, who turns out to be the boy of her dreams (literally), everything seems to fall into place and out of place at the same time. Because there's another guy, Tucker, who appeals to Clara's less angelic side.
As Clara tries to find her way in a world she no longer understands, she encounters unseen dangers and choices she never thought she'd have to make between honesty and deceit, love and duty, good and evil. When the fire from her vision finally ignites, will Clara be ready to face her destiny?
Unearthly is a moving tale of love and fate, and the struggle between following the rules and following your heart.
After reading the first book in this trilogy over two years ago, I decided it was finally time to jump back in and finish off the trilogy. I ended up reading the second and third books in June and finally finishing this series.
I haven't read too much about angels, but I really liked this interpretation. They all have visions of their purpose, but when it comes down to it, they can choose to follow their purpose or do something different with their lives. This serves as the main plot for the entire series as Clara struggles to find the balance between what she believes her purpose is and what she wants to do. This is pivoted by one of the best love triangles I have ever read – with Tucker and Christian being the two camps. I was on Team Christian for all of the books, and I won't spoil it, but I was happy with how everything turned out at the end (either team you were on would probably be okay with it). It was actually really hard to have a favorite!
I expected for there to be some problems after having two years between books, but I felt that the world really kept up with itself. I understood everything easily and this is a light fantasy. This is a very good starter book for those looking to get into more paranormal fantasy. There is not much intense vocabulary and the book takes place in the real world. It is a great fantasy with beautiful writing.
Overall, I love this series! It has beautiful writing, great characters, an innovative concept, and an action packed plot! There are some really intense scenes, but not so much that it becomes a constant battle. I loved these characters so much and I wish that there was one more book so we could spend more time with them. This is a really fantastic series.
(for each book in the series)