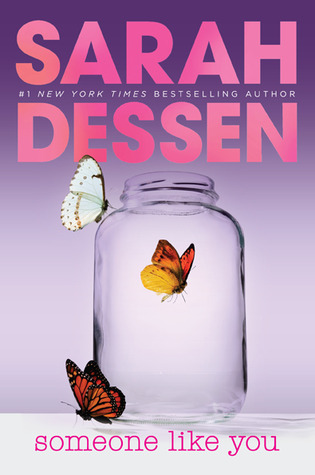 Someone Like You by Sarah Dessen
Published Speak 1998
Genre: Young Adult Contemporary
Format: Hardback
The world is a terrible place not to have a best friend.
Scarlett was always the strong one.
Halley was always content to follow in her wake.
Then Scarlett's boyfriend died, and Scarlett learned that she was pregnant.
Now Halley has to find the strength to take the lead and help Scarlett get through it.
Because true friendship is a promise you keep forever.
This is, so far, the darkest Desen book I have read by far. While all of them have darker themes, this one takes the focus of the novel. Teen pregnancy is the main plot of the book, but I really liked the different take on the topic we got. Instead of seeing it from Scarlett's eyes, who is pregnant, the story was told from Halley's perspective, Scarlett's best friend. I liked this interesting POV and found that it added a lot to the story. At the same time Scarlett is going through this, Halley has a romance with a bad boy and after seeing Scarlett's situation, this allows for Halley to take those lessons and focus them on herself as well.
Halley and Scarlett's friendship was one of the strongest I have ever read. It was really sweet to see them both working through their situations and how they were still a support system for the other, even though it might seem like they could have only dealt with their problems. I found this friendship to be a common theme in YA – the shy friend and the outgoing friend. That was very much the case in this book, and while I typically struggle with that, this one made it seem more natural. Halley wasn't so shy that it seemed like a big jump for Scarlett to be friends with her, nor was that the struggle of the entire novel.
I really felt for both of the characters in both of their situations throughout the novel and I liked the parental relationships as well. It was not fun to see Halley dating someone that was not good for her, but at the same time, I was so conflicted between what Halley wanted and the pressures of her parents. I was never frustrated with their decisions, but rather, it exposed some interesting philosophies into the way that these girls experienced their high school years. There are lots of topics in here with multiple different viewpoints, and most of them were addressed in a clear way.
For me, this book proved the stature of Dessen's writing. Although one of her earlier works, it shows the amount of material that she can write well. It's not just about the fluffy, sweet romances with Sarah Dessen. It's about friendship and finding yourself and growing up.