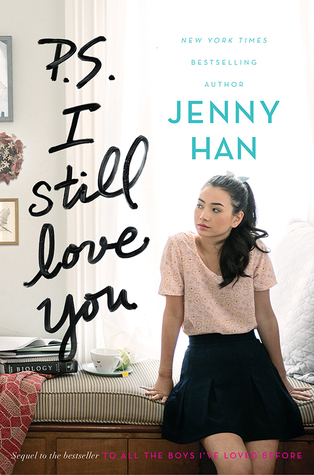 P.S. I Still Love You by Jenny Han (To All the Boys I've Loved Before #2)
Published Simon and Schuster 2015
Genre: Young Adult Contemporary
Format: Hardback
Lara Jean didn't expect to really fall for Peter.
She and Peter were just pretending. Except suddenly they weren't. Now Lara Jean is more confused than ever.
When another boy from her past returns to her life, Lara Jean's feelings for him return too. Can a girl be in love with two boys at once?
In this charming and heartfelt sequel to the New York Times bestseller To All the Boys I've Loved Before, we see first love through the eyes of the unforgettable Lara Jean. Love is never easy, but maybe that's part of what makes it so amazing.
I didn't like this book and for that, I'm very disappointed. In fact, as I am writing this review, I'm still trying to convince myself to like it. That shows how much I believe in Jenny Han as an author, but sadly this book did not work for me.
This took a very different turn from what I was expecting and the tone of TATBILB. The main problem in this book is the consequences of Lara Jean dating Peter, for real this time. And it quickly starts out with a video of them making out in a hot tub being released all over school and the bullying that comes with it. This was where my first problem originated – it started getting really preachy. I have no problem with feminist themes in novels, or undertones, or characters or whatever. What I do have a problem with is two pages that seem more to be a feminist manifesto, when they don't make any sense with the character or the situation. This is something I have seen more often, and while yes, readers do want more feminist themes, shoving it to us doesn't work very well. Plus, I don't remember this ever really being resolved beyond that – like it just kind of ended? And then the rest of the book had a different plot.
Anyway, I totally forgot why I liked Peter in the first book. Because I never felt anything for him or their relationship. They were fighting for pretty much all of the book. So when John came into the scene, I was so excited. I really liked John – way more than I ever did Peter. I felt like he was sweet and they built a relationship on common interests, instead of the fake relationship with Peter. I probably shouldn't have liked him more than Peter though, so I felt conflicted about that. It wasn't that I was conflicted because Lara Jean was conflicted though. I was conflicted because I could see the book trying to go one direction and I wanted it to go the other way.
While the family themes are more present this time around, Josh is nearly non-existent. For being such a big presence in the first book, I wanted to see what happened to him. Also, I felt like the Peter/Gen thing wasn't believable. Lara Jean got so upset for things that I could never understand and she was constantly jealous. She jumps to so many conclusions, even from the first page.
I think the main reason that I'm disappointed by this book is because it made me NOT ship two characters. That's pretty strange for me. At the end of this, I couldn't understand why Peter liked Lara Jean or vice versa. It made me feel more 'meh' about this duology, the characters, and the romance as a whole. I still love Jenny Han, but I think this was a misstep.