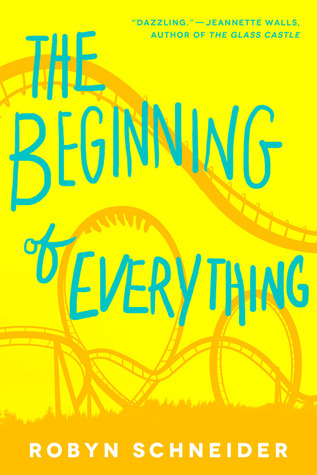 The Beginning of Everything by Robyn Schneider
Published Katherine Tegen 2013
Genre: Young Adult Contemporary
Format: Paperback from the library
Golden boy Ezra Faulkner believes everyone has a tragedy waiting for them—a single encounter after which everything that really matters will happen. His particular tragedy waited until he was primed to lose it all: in one spectacular night, a reckless driver shatters Ezra's knee, his athletic career, and his social life.
No longer a front-runner for Homecoming King, Ezra finds himself at the table of misfits, where he encounters new girl Cassidy Thorpe. Cassidy is unlike anyone Ezra's ever met, achingly effortless, fiercely intelligent, and determined to bring Ezra along on her endless adventures.
But as Ezra dives into his new studies, new friendships, and new love, he learns that some people, like books, are easy to misread. And now he must consider: if one's singular tragedy has already hit and everything after it has mattered quite a bit, what happens when more misfortune strikes?
Robyn Schneider's The Beginning of Everything is a lyrical, witty, and heart-wrenching novel about how difficult it is to play the part that people expect, and how new beginnings can stem from abrupt and tragic endings.
This book was just like the roller coaster on the cover – at some points, I enjoyed it and everything was going up, and then other times, it all fell down.
Ezra is just like any other stereotypical teenage boy. He played sports, was popular, dated an annoying popular girl…then ended up in a tragic car crash that ruined his tennis career forever. Until he meets Cassidy who is a little too manic pixie dream girl for my tastes. Everything about this book – from the characters to the plot to the humor – reads exactly like John Green. Without giving me an author, I might have even confused the two. There is something about Green's books that are very hit or miss for me, and this one picked up many of the components to create a miss.
I felt like this book was trying to be monumental, the next big thing in young adult contemporary. It follows along with many of the popular tropes going around in this genre too. The most annoying thing for me was the strange, out of place sentences that would try to deliver some metaphor or great meaning of life at the end of each chapter. They didn't come off as insightful, but really awkward. It reminded me of the way Hazel and Gus talk in The Fault in Our Stars. Also, Cassidy was so frustrating. The romance went nowhere the entire time, and it left me questioning what the plot of this book really was. Cassidy was essentially the dream girl for Ezra but I never really liked her. She didn't seem like a real girl.
The two parts that I enjoyed were the friendship between Ezra and Toby and the debate team meets. Ezra and Toby were friends long before, but they reunited after the accident. Toby was really the only funny one in the book and I would have enjoyed the book more if it was narrated from his perspective. I liked seeing their friendship and interactions together. Also, I liked the debate team meet. It sounded like such a fun, crazy weekend. That section of the book made me see that Schneider is a good writer, but this tried to be something it wasn't.
Overall, this book was okay. Many parts didn't work for me, including the execution of the plot. I wish this book would have been what it was instead of trying to be the next John Green.