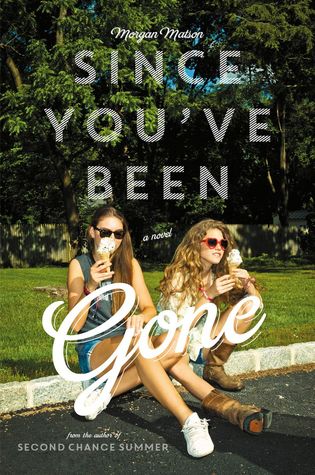 Since You've Been Gone by Morgan Matson
Published Simon and Schuster 2014
Genre: Young Adult Contemporary
Format: Hardback from the library
It was Sloane who yanked Emily out of her shell and made life 100% interesting. But right before what should have been the most epic summer, Sloane just…disappears. All she leaves behind is a to-do list.
On it, thirteen Sloane-inspired tasks that Emily would normally never try. But what if they could bring her best friend back?
Apple picking at night? Okay, easy enough.
Dance until dawn? Sure. Why not?
Kiss a stranger? Um…
Emily now has this unexpected summer, and the help of Frank Porter (totally unexpected), to check things off Sloane's list. Who knows what she'll find?
Go skinny-dipping? Wait…what?
After hearing EVERYWHERE I needed to read a Morgan Matson book, I decided that #monthofmatson, hosted by Maureen Keavy, would be a perfect time. I started with this book because it appeals the most to me and I already had it on hand.
The only real problem I had with this book was the two main characters and the pacing of the book. I didn't really like Emily or connect with her until about halfway through the book. She didn't seem to have any personality outside of Sloane. And speaking of Sloane, I didn't like her either. Even though she is not in the actual book very much, hearing all the backstory about her made me get a bad vibe from her. I could not figure out why these two were friends, or why Sloane would leave without Emily. I wanted Emily to stop caring about Sloane and grow into herself more. This started to happen towards the end, but I was not happy with where everything actually was at the last few pages.
The other problem was the pacing. This is a very long book – especially so for contemporary standards. And because of that, I felt myself getting bored a few times, especially in the beginning. The list Emily has to complete is very long, so there are chapters for each of those, but also a few extra chapters. Even the chapters are long, with some featuring a backstory featuring Sloane and Emily. I found these backstory bits to be the most boring, although I did understand why they had to be told in order to make the present day plot work.
I did like the overall message of this book and the writing was really great. I will definitely be reading more Morgan Matson books in the future (I think Amy and Roger's Epic Detour will be next). The mystery aspect was really fun and I enjoyed the road trip aspect as well. The romance was really sweet and well done. Even though I didn't like Frank at first, I ended up totally falling for him, as well as his relationship with Emily. All of the side characters were so well developed and I would read a whole book about any of them. The family situation with Emily was funny, but also added a sense of realism that we don't often get from contemporaries. I especially liked Emily's relationship with her younger brother.
Overall, I enjoyed this book! I just wish that I would have liked the two main characters a little bit more to make this a stand out book. However, this was really good for my first time reading Morgan Matson! I'm looking forward to picking up more.