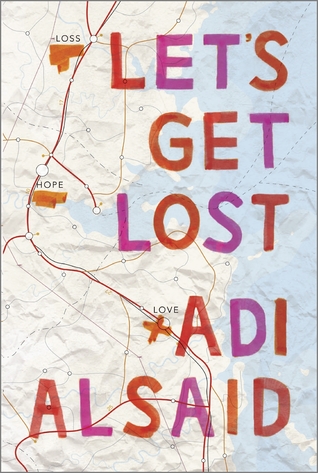 Let's Get Lost by Adi Alsaid
Published Harlequin 2014
Genre: Young Adult Contemporary
Format: Hardback from the Library
Five strangers. Countless adventures. One epic way to get lost.
Four teens across the country have only one thing in common: a girl named Leila. She crashes into their lives in her absurdly red car at the moment they need someone the most.
Hudson, Bree, Elliot and Sonia find a friend in Leila. And when Leila leaves them, their lives are forever changed. But it is during Leila's own 4,268-mile journey that she discovers the most important truth—sometimes, what you need most is right where you started. And maybe the only way to find what you're looking for is to get lost along the way.
This book was a winner – for 4 of the 5 parts. The different perspectives really worked for me in this book, so let's review them separately!
Hudson – This was the only part that I struggled liking, which is bad because it is also the very first time we meet Leila. I wish this section had been stronger because if it had been, this would probably have been a favorite for so many people. However, Hudson saw Leila as a 'manic pixie dream girl' character, constantly talking about her looks or how smart she was within moments of meeting her. Essentially, it's the epitome of 'insta-love.' Typically, this would've ended it for me right away, but the writing in this part really drew me in. I could tell there was some potential, so I kept reading. I just wish that this had started off really strong and gave the reader a good first impression of Leila and the romance (which is a pretty big plot point for the rest of the book).
Bree – During this part, I really started believing in what Let's Get Lost was trying to do. Bree and Leila had a really nice friendship that I wanted more of, but I liked what happened to both of the characters throughout this section. Bree is a bad girl and a runaway, making for an interesting conflict with Leila. She pushed Leila to share more about herself and go outside of her comfort zone.
Elliot – I would have been totally okay with reading a book just about Elliot. I thought his relationship with Maribel was really cute. Plus, his interactions with Leila were really quirky. I do wish that we had spent a little bit more time with Leila in our journey to learn more about this character too, but I did like the romance. It was a memorable part of the story and Leila was able to help Elliot in a special way.
Sonia – My favorite part! I loved the crazy antics and the complex romance. There were so many different components to this story as both Sonia and Leila helped each other. This section was filled with funny moments and antics. I wish the whole book had been as stunning as this part. Sonia was also my favorite of the side characters, especially with the way she accompanied Leila. It felt like a more genuine relationship.
Leila – The last section, devoted to Leila, answered plenty of questions. It still had the same quirky and fun writing style, with plenty of interactions from random strangers that come into her life. I especially liked the ending of this story and finally hearing the backstory behind this roadtrip. Hearing from Leila was really interesting because for so long, it was just other people. However, Leila defines herself more. It's not difficult to get into her voice and it makes for an unique look at characterization.
Overall, this book was pretty good! I was happy with four of the five sections and it was because of instalove and unrealistic situations. This is very reminiscent of Paper Towns and A Little Something Different – so I would suggest it to fans of either of those books. I can't wait to read more from Adi Alsaid because he really showed his potential with this book.