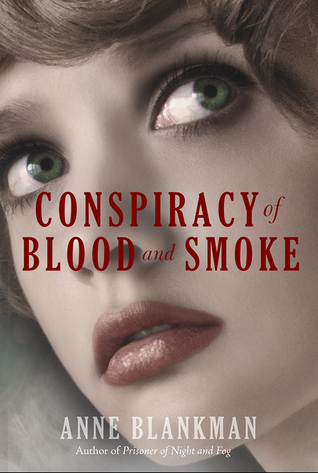 Conspiracy of Blood and Smoke by Anne Blankman (Prisoner of Night and Fog #2)
Published Balzer and Bray 2015
Genre: Young Adult Historical Fiction
Format: Hardback from the library
Note: This review will have spoilers for Prisoner of Night and Fog. It is spoiler free for Conspiracy. If you haven't read the first book in this duology, I LOVED it and you can check out my review here. 
The girl known as Gretchen Whitestone has a secret: She used to be part of Adolf Hitler's inner circle. More than a year after she made an enemy of her old family friend and fled Munich, she lives with a kindly English family, posing as an ordinary German immigrant, and is preparing to graduate from high school. Her love, Daniel Cohen, is a reporter in town. For the first time in her life, Gretchen is content.
But then, Daniel gets a telegram that sends him back to Germany, and Gretchen's world turns upside-down. And when she receives word that Daniel is wanted for murder, she has to face the danger she thought she'd escaped-and return to her homeland.
Gretchen must do everything she can to avoid capture and recognition, even though saving Daniel will mean consorting with her former friends, the Nazi elite. And as they work to clear Daniel's name, Gretchen and Daniel discover a deadly conspiracy stretching from the slums of Berlin to the Reichstag itself. Can they dig up the explosive truth and get out in time-or will Hitler discover them first?
I have a new auto-buy author. This book was just as amazing, fast paced, and action packed as the first.
One of my favorite parts of this series is all of the history involved within the story. Very little of it is actually fiction, except for the two main characters. This one continued along with another amazing plot line, describing more of Hitler's rise to power and getting closer to the events of World War II. And while this was a really fun book to read, it also made me think about what would happen next – the destruction of the world at war. It was an unique situation to be in as a reader, hoping for the happy ending, and yet still already knowing the ultimate end of the story. I think Blankman knew this going in and was actually able to use this to her advantage.
Within Conspiracy, there are new settings and even higher stakes. We start with Gretchen and Daniel in England, where they are somewhat safer, but their lives have changed dramatically. I felt for them as they looked back at the destruction in their homeland with conflicting feelings about what they both left behind. Once they go back to Germany, everything becomes even more intense. Every chapter left me on a cliffhanger and I could not stop reading until I got to the end. And even then, I still wanted more. I could probably read about Gretchen and Daniel forever and be totally okay with that.
Also, everything seemed more on edge. The entire community now is on one side or the other of Hitler, and there are plenty of enemies and friends to be made. There is still heapings of political drama to be immersed in, with Hitler's friends and enemies. I loved how Gretchen and Daniel find themselves among a cast of characters that compliment the story so well. Most of their newfound friends are an underground crime ring and this added a fun layer of mystery and intrigue to the plot. Some of the old characters are back from the first book and it's interesting to see what happened to them, both in this book and after everything that happened.
Overall, I LOVED this duology! For me, it's a must read to anyone who loves historical fiction. I liked the interesting take on WW2, Hitler, and how everything came together in the end. There isn't just one way to summarize this duology – it's a twisty political drama with tons of action, mystery, and a super sweet romance.