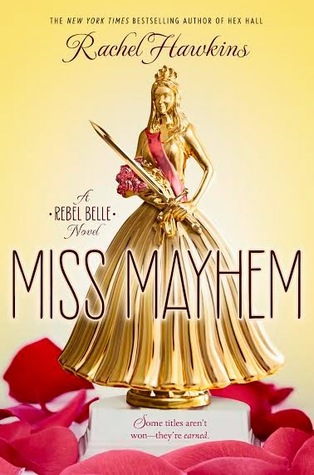 Miss Mayhem by Rachel Hawkins (Rebel Belle #2)
Published Putnam 2015
Genre: Young Adult Fantasy
Format: Hardback from the library
Life is almost back to normal for Harper Price. The Ephors have been silent after their deadly attack at Cotillion months ago, and her best friend, Bee, has returned after a mysterious disappearance. Now Harper can focus on the important things in life: school, canoodling with David (her nemesis-turned-ward-slash-boyfie), and even competing in the Miss Pine Grove pageant.
Unfortunately, supernatural chores are never done. The Ephors have decided they'd rather train David than kill him. The catch: Harper has to come along for the ride, but she can't stay David's Paladin unless she undergoes an ancient trial that will either kill her . . . or make her more powerful than ever.
I LOVED Rebel Belle, so I was expected so much out of this sequel. It came through in some ways, but it was still missing some key aspects for me.
Being back with Harper and David is always exciting! I love Harper's attitude and her relationship with David. While this was still present, it became more serious in Miss Mayhem. This installment toned down the story and heightened the stakes, setting up for the last book in the trilogy. However, there was too much of this. Everything seemed to be building up to the final cliffhanger, which while left me almost in tears, also made me miss how much this book could have been.
Starting with the action. We get plenty of really cool fight scenes out of this, especially as the enemy becomes more formulated. The Ephors begins to make more sense and understood. The main part of this book is the trial to solidify Harper as David's paladin, although it didn't really make much sense. We do get some really great scenes out of it, including multiple intense moments that showcase how serious these problems are. It's no longer the light hearted Rebel Belle. Harper and David both grow up through these trials and begin to reexamine their relationship with more detail, especially considering the new enemies they are facing.
There was a little bit of a spark that was missing from the first book. Even though I try not to compare them, it's hard when they are two books in a series. Anyway, this book felt a little all over the place. We have more characters, a deeper world, and plenty of relationship drama. It's an accurate title – there is so much happening here that it could be mayhem.
Overall, I enjoyed this book. While I was expecting more, I like the direction it is setting up for the final book in the trilogy. This focused a little too much on the ending, which while good, I wanted more throughout the journey. I can't wait for the next book! Too bad we have to wait a year 😦