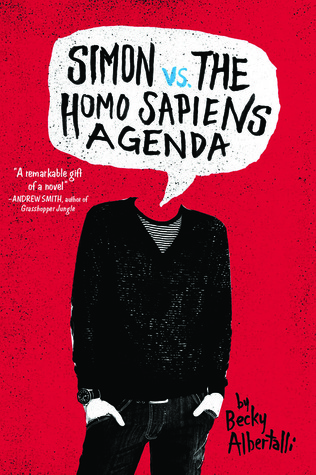 Simon vs. The Homo Sapiens Agenda by Becky Albertalli
Published Balzer and Bray 2015
Genre: Young Adult Contemporary
Format: Library
Sixteen-year-old and not-so-openly gay Simon Spier prefers to save his drama for the school musical. But when an email falls into the wrong hands, his secret is at risk of being thrust into the spotlight. Now Simon is actually being blackmailed: if he doesn't play wingman for class clown Martin, his sexual identity will become everyone's business. Worse, the privacy of Blue, the pen name of the boy he's been emailing, will be compromised.
With some messy dynamics emerging in his once tight-knit group of friends, and his email correspondence with Blue growing more flirtatious every day, Simon's junior year has suddenly gotten all kinds of complicated. Now, change-averse Simon has to find a way to step out of his comfort zone before he's pushed out—without alienating his friends, compromising himself, or fumbling a shot at happiness with the most confusing, adorable guy he's never met.
I wanted to like this book, I really did. But so many aspects of this book were just not working for me…This is yet another edition of 'hype killed the book' in my case.
Starting with Simon. I liked the idea of his character, but I think in general, it didn't work well for me. I found his voice annoying and immature. Plus, there are too many cultural references for my taste. This is something I see more and more often, but I don't understand why. It's not something I am a fan of AT ALL. Simon's character seemed really all over the place and I could never really get a good handle on any of his decisions. I wish his character was more developed or was cleaner in the development. Also, I didn't really like Blue either. It was interesting trying to figure out who he was, and I did catch on pretty quickly. However, I never really liked his character that much either. The approach to his character – entirely through emails back and forth with Simon – was a nice idea, but I needed that extra something to make his character pop. In many ways, he felt like just a love interest for Simon. Overall, I wanted more out of both of these characters. The side characters were pretty flat as well, and I got them confused all the way until the end of the book. The characterization was not in my favor for Simon.
The writing was very Pretty Little Liars – esque. Because I'm seeing this more often, I should probably come up with a better word for it. It was quick and it kept my attention, but it wasn't fulfilling by the end of the book. That is mostly what I got from this. And while the lgbt+ themes were interesting, I don't think they were done the best I've ever read in young adult. In fact, I much prefer David Levithan and Nina LaCour. The plot moved slowly and I was bored for most of the book, until I got halfway in. But even then, the prospect of trying to find Blue was getting boring too.
I think this book could've used a heavy dose of description. Because overall, I wanted more. I wanted more action from Simon, instead of just waiting to find his Blue. I wanted to be more in Simon's head as he tried to figure out everything – because when he finally proposed to Blue who he thought he was, it was totally off guard. I think that aspect should've been heightened. I wanted more from his friends, who didn't really serve a purpose. I could have done without all of them. The family was really sweet, but they were mostly cut-outs of a family.
Overall, this book was mostly okay. I didn't hate it, but I didn't love it either. My expectations were pretty high and they could have been fulfilled with a little bit less quirkiness and more detail. The characters did not pop off the page like is so necessary in contemporaries. However, I did appreciate the unique story telling perspective, the diversity in the story, and the meaning behind everything and I'm looking forward to reading more by Becky Albertalli.
*probably closer to a 2.5