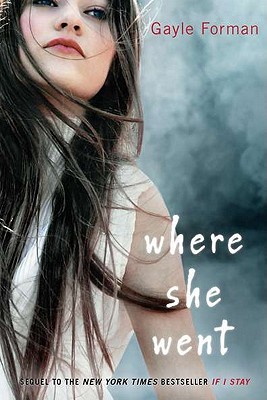 Where She Went by Gayle Forman (If I Stay #2)
Published Dutton 2011
Genre: Young Adult Contemporary
Format: Paperback
It's been three years since the devastating accident . . . three years since Mia walked out of Adam's life forever.
Now living on opposite coasts, Mia is Juilliard's rising star and Adam is LA tabloid fodder, thanks to his new rock star status and celebrity girlfriend. When Adam gets stuck in New York by himself, chance brings the couple together again, for one last night. As they explore the city that has become Mia's home, Adam and Mia revisit the past and open their hearts to the future – and each other.
Told from Adam's point of view in the spare, lyrical prose that defined If I Stay, Where She Went explores the devastation of grief, the promise of new hope, and the flame of rekindled romance.
I thought I wasn't going to read this at first. In fact, I had no idea what happened when it came in for me at the library from a request. But, I decided to pick it up because it was short and I could read it pretty quickly.
This is a new favorite book.
I was being ridiculous when I told myself not to read this – it was so amazing. I'm going to have trouble reviewing this without a lot of gushing, so I'm going to compile my gushing into a list:
Adam's Voice. He's this raw, tired rockstar with a serious anger problem and plenty of struggles. From the time after If I Stay closed, he's had lots of drama for himself.
New York City. I need more books set in this beautiful city. I loved how the setting took Adam and Mia on an adventure throughout these areas and hitting the spots that are so different and unique.
Mia's transformation. I love her outlook on life, especially after the tragedy she went through. She has so many beautiful phrases and a truly life changing way to life.
The way we were caught up on the past while staying in the present with Adam and Mia. I really liked how the book switched to catch us up with what happened between If I Stay and this book. It never felt too time jump-y, and really added even more detail to the story as a whole.
The romance. Mia and Adam don't get back together immediately and they really have to reconnect. But seeing them both together, you could tell their history and how much they cared for each other.
Getting more If I Stay. We learn about what was happening outside of their perspectives, every detail of the most crucial moments of the first book.
Overall, this book sealed the deal for me on this duology, this story, and Gayle Forman as an author. I loved every moment of this and it's a new favorite.