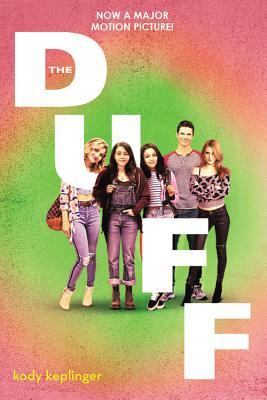 The Duff: Designated Ugly Fat Friend by Kody Keplinger
Published Poppy 2010
Genre: Young Adult Contemporary
Format: I received a e-copy of this book from the publisher and NetGalley for review consideration. This did not affect my opinion of this book or the content of my review in any way.
Soon to be a major motion picture! Seventeen-year-old Bianca Piper may not be the prettiest girl in her high school, but she has a loyal group of friends, a biting wit, and a spot-on BS detector. She's also way too smart to fall for the charms of man-slut and slimy school hottie Wesley Rush. But things aren't so great at home and Bianca, desperate for a distraction, ends up kissing Wesley. Worse, she likes it. Eager for escape, Bianca throws herself into a closeted enemies-with-benefits relationship with him.Until it all goes horribly awry. It turns out Wesley isn't such a bad listener, and his life is pretty screwed up, too. Suddenly Bianca realizes with absolute horror that she's falling for the guy she thought she hated more than anyone.
Ummm…this was not AT ALL what I was expecting from this book. Because overall, I found it hard to connect with any of the characters. And for a romance, it wasn't exactly good.
First of all, I am not even sure if I would call it 'young adult.' Maybe, because the characters are definitely teenagers, but I think their actions perform more like 'new adult.' That's because the main point of this book is sex. That's it. Bianca and Wesley have a "enemies-with-benefits" relationship, where essentially, she is just using him to get away from some of the problems in her life, such as being called a DUFF. Which Wesley is the one to call her that! And then to make this relationship worse, she ends up actually starting to like him, although there is no good reason for that. They barely talk outside of their relationship and it was a huge case of insta-love. Maybe one of the worst I've read.
Although it may sound like I hated this book, I did struggle with my rating for a long time before finally ending up with where I stood. In fact, I even considered giving it a higher rating. Why? Well, the book was really lighthearted, addressed some important topics, and by the end, I did enjoy reading it. It was just getting there that was so bad with all of the use in this book. There were points when I felt bad for Wesley for letting Bianca use him, as well as feeling bad for her friends who she shut out so much over the course of this book. And I also think that the idea of this book could have had so much potential to talk about self confidence – something that, from the trailers, the movie is emphasizing more than the approach the book has.
Overall, I was disappointed in this book. With such an interesting topic to discuss and plenty of advice that could have been offered, it fell short with a bad situation that involved using many people. While it did have an interesting family dynamic and served as a quick read, Bianca was not an enjoyable character and her relationship with Wesley was really bad.