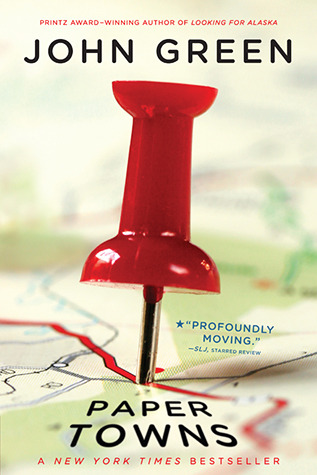 Paper Towns by John Green
Published Speak 2008
Genre: Young Adult Contemporary
Format: Kindle
Who is the real Margo?
Quentin Jacobsen has spent a lifetime loving the magnificently adventurous Margo Roth Spiegelman from afar. So when she cracks open a window and climbs into his life—dressed like a ninja and summoning him for an ingenious campaign of revenge—he follows. After their all-nighter ends, and a new day breaks, Q arrives at school to discover that Margo, always an enigma, has now become a mystery. But Q soon learns that there are clues—and they're for him. Urged down a disconnected path, the closer he gets, the less Q sees the girl he thought he knew…
I first started this book with very low expectations. I have not liked a John Green book yet (unless you count Will Grayson, Will Grayson with David Levithan) – I've read the Fault in Our Stars and did not enjoy it, and I've started and DNFed both Looking for Alaska and an Abundance of Katherines. I was almost completely done with John Green until I saw the movie trailer for this book, which looks awesome. And then I thought I should give Green a second chance.
I AM SO GLAD I DID THAT.
This book took me on an incredible journey of self development, told through the mystery of Margo. I loved the chapters between Margo and Q at the very beginning. All of their crazy adventures really took him on an amazing ride throughout the city and seeing him open up was really great. And then, throughout the mystery, he does even more things he never thought he would do. I love those self-empowering, motivational books about life. And this was a really good one.
Q's character, while not perfect, was quirky and fun. I really loved his group of friends, and seeing really great friends in young adult especially is something I have been on the lookout for more often. It's not until recently I noticed their lacking (even among contemporaries), but this one does not make his best friends just side characters, but rather involves them in the plot. Every character felt important to the story and I liked getting to know all of them. Margo is a very interesting character among them all because she is never really in the story, except for the first couple of chapters. It is just Q thinking about her and solving this mystery she left for him to find. And while we don't really get to know Margo first hand, I think that this was a very interesting approach to her character. Q did get a little obsessed with Margo at times, and that kind of creeped me out a little bit, but I got where the story was trying to go with it.
At the end, I loved the road trip feel and all of the great moments that happened along the road. It was about Q and all of his friends (old and new) and doing something very un-Q-like in embracing everything out there for him. The only thing I was disappointed in during this part of the book was knowing what a Paper Town was, from watching John Green's Vlog Brothers videos. It seems weird that he would advertise this book and the story with that, considering how it was used in the book.
Overall, I really enjoyed this book! Q and his friends were a great note and had me laughing out loud. I loved the message about embracing everything about life. And I'm reconsidering my previous DNFs.
*maybe a 4.5 stars, but I'm rounding up.