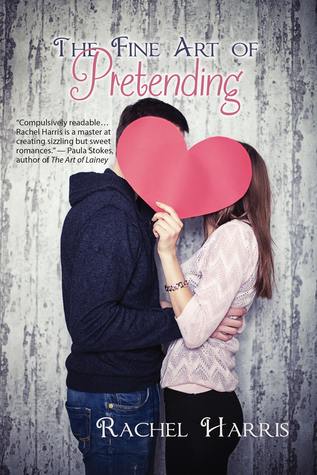 The Fine Art of Pretending by Rachel Harris
Published Spencer Hill 2014
Genre: Young Adult Romance
Format: Kindle
According to the guys at Fairfield Academy, there are two types of girls: the kind you hook up with, and the kind you're friends with. Seventeen-year-old Alyssa Reed is the second type. And she hates it. With just one year left to change her rank, she devises a plan to become the first type by homecoming, and she sets her sights on the perfect date—Justin Carter, Fairfield Academy's biggest hottie and most notorious player.
With 57 days until the dance, Aly launches Operation Sex Appeal and sheds her tomboy image. The only thing left is for Justin actually to notice her. Enter best friend Brandon Taylor, the school's second biggest hottie, and now Aly's pretend boyfriend. With his help, elevating from "funny friend" to "tempting vixen" is only a matter of time.
But when everything goes according to plan, the inevitable "break up" leaves their friendship in shambles, and Aly and Brandon with feelings they can't explain. And the fake couple discovers pretending can sometimes cost you the one thing you never expected to want.
I picked this book immediately after I bought it, wanting something light and fun. That was exactly what I got! In fact, I read the entire book in one day and it was a very enjoyable read.
At first, I was a little worried about the outcome of this book. It's about the main character trying to appeal more sexy – not exactly a concept I would want to support. However, I really LOVED the way that it took the concept and handled it. It's probably a feeling most girls go through at one point or another, so it was good that it was addressed. But having Brandon there to counteract it all was perfect.
The fake dating trope is something I enjoy, although not something that I have read very much of. I initially heard about this book because it used that trope. Brandon and Aly were a really cute fake couple, and of course, you can guess how it goes from there. My favorite part about this book was how sweet Brandon was. The dual perspectives really made everything so much sweeter and more enjoyable. I probably would not have enjoyed it as much without hearing from Brandon. Brandon was adorable and I loved his approach to romances. Really, the book probably should have been more about him than Aly. Aly's character transformation was also really great, but ultimately, Brandon sealed the deal for me.
The relationship was cute and sweet. While the book is very short, I didn't feel like there was any insta-love because of the history between Brandon and Aly. From their very first interactions, there is a sense of how deep their relationship is and how much the two care about each other. I did expect for there to be a little bit more buildup before the fake relationship started, but it was okay how it worked out. Also, I felt like it dragged a little bit between the climax of the book and the end. It felt like they were both taking way too long to tell each other anything about how they felt.
Overall, this was a very cute romance. I would suggest it if you are a fan of the fake dating trope or you want a totally swoon worthy guy.