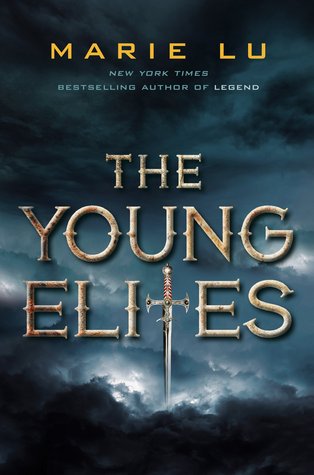 The Young Elites by Marie Lu (The Young Elites #1)
Published G.P. Putnam's Sons 2014
Genre: Young Adult Fantasy
Format: Hardback from the library
I am tired of being used, hurt, and cast aside.
Adelina Amouteru is a survivor of the blood fever. A decade ago, the deadly illness swept through her nation. Most of the infected perished, while many of the children who survived were left with strange markings. Adelina's black hair turned silver, her lashes went pale, and now she has only a jagged scar where her left eye once was. Her cruel father believes she is a malfetto, an abomination, ruining their family's good name and standing in the way of their fortune. But some of the fever's survivors are rumored to possess more than just scars—they are believed to have mysterious and powerful gifts, and though their identities remain secret, they have come to be called the Young Elites.
Teren Santoro works for the king. As Leader of the Inquisition Axis, it is his job to seek out the Young Elites, to destroy them before they destroy the nation. He believes the Young Elites to be dangerous and vengeful, but it's Teren who may possess the darkest secret of all.
Enzo Valenciano is a member of the Dagger Society. This secret sect of Young Elites seeks out others like them before the Inquisition Axis can. But when the Daggers find Adelina, they discover someone with powers like they've never seen.
Adelina wants to believe Enzo is on her side, and that Teren is the true enemy. But the lives of these three will collide in unexpected ways, as each fights a very different and personal battle. But of one thing they are all certain: Adelina has abilities that shouldn't belong in this world. A vengeful blackness in her heart. And a desire to destroy all who dare to cross her.
It is my turn to use. My turn to hurt.
I liked the concept of Adelina, but that's just about all I liked in this book.
Adelina serves as our main character, but she's very different from the typical YA protagonist. In fact, I don't even know if I would call her a protagonist. She's an anti-hero and serves both as a positive and negative plot point throughout the book. Adelina is known for being driven out of fear, anger, and passion. She's a very dark character who was raised with abusive parents. Plus, she's a malfetto, which means that she has some physical problems and a set of super cool powers. Adelina can create illusions, honestly a pretty cool power. I really liked how her humanity is discussed throughout the book. She does some really bad things and she has struggled with a very dark history. Her character and the idea of making an antihero the star of this book were interesting, and ultimately, my favorite part of The Young Elites.
That's about where my love for this ends. And that is really sad for me, after being a huge fan of Legend. The world building was very sketchy for me. The way that the Young Elites got their powers was confusing, and also the difference between the malfettos who were just physically hurt after the illness, and those who for some reason had powers. There were multiple confusing scenes, especially as she starts to work with the Daggers. Adelina's character also made some very confusing decisions, especially toward the end of the book. I feel like it was going in an entirely different direction that just made me more upset with the way this turned out. I felt like I read the whole book just for the ending to scratch everything out. I'm guessing here, but the first and second book probably could have been combined into one and given the book a much better reading experience.
Even the writing I wasn't a huge fan of. I did not really care about any of the characters, especially because they were all so dark. I did not fall for the romance, in fact, I might even consider it insta love. It had the same fast paced and action packed style that Legend had but this one didn't work as well with such a complex world to develop. Whereas the world in Legend was rather easy to grasp and understand, this one was new and needed more work done.
Overall, I was very disappointed in The Young Elites. I do want to read more books with antiheroes and this was an interesting concept, however the execution failed to deliver in the way I wanted it to turn out.