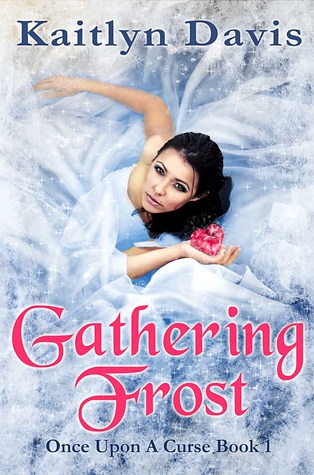 Gathering Frost by Kaitlyn Davis (Once Upon a Curse #1)
Published 2015
Genre: Young Adult Fantasy
Format: I received an ARC from the publisher and YA Bound Book Tours in exchange for review consideration. This did not affect the content of this review or my opinions in any way.
Buy this book: Amazon, Add to Goodreads
Will his kiss be enough to revive her frozen heart?
Once Upon A Time meets La Femme Nikita in GATHERING FROST, a dystopian romance from bestselling author Kaitlyn Davis that reimagines the classic fairy tale of Sleeping Beauty.
Jade was only a little girl when the earthquake struck. Before her eyes, half of New York City disappeared, replaced by a village that seemed torn out of a storybook. Horses and carriages. Cobblestone streets. A towering castle. And, above all, a queen with the magical ability to strip emotions away.
Ten years later and Jade has forgotten what it is to feel, to care…even to love. Working as a member of the queen's guard, she spends most of her time on the city wall staring at the crumbling skyscrapers of old New York. But everything changes when the queen's runaway son, Prince Asher, returns. Jade is tasked with an unusual mission–to let the Prince capture her, to make him trust her, and then to betray his secrets to the crown. In return, she'll earn her freedom. But life outside the queen's realm is more than Jade bargained for. Under Asher's relentless taunts, her blood begins to boil. Under his piercing gaze, her heart begins to flutter. And the more her icy soul begins to thaw, the more Jade comes to question everything she's ever known–and, more importantly, whose side she's really on.
This was a really interesting, fun book. I flew through this book in about a day. It was really action packed and had a fun mystery too. Essentially, this is a fairytale retelling of Sleeping Beauty, but that's not obvious just by reading the story. There are plenty of fun twists on the original story – for one, the concept of the princess being asleep. In this book, Jade isn't really asleep, but she is emotionless. That was really powerful and I liked the way that we got to see her character shift between feeling nothing and beginning to have emotions. The writing in those sections was really great, especially because the first person POV really adds to how she feels everything so strongly at the beginning.
The book did have some problems. The insta-love was really bad in this one. It seemed like the first time they saw each other, they were in love. It was around 25% of the way through in the Kindle book. In this case, I'm willing to let that go a little bit because of the fairytale aspect. In most Disney movies or fairytale stories, the love happens even faster than that. But maybe this book could have been a little bit longer in order to fit that in.
Going with that last point, I think that there were lots of plot holes or places where there could have been more action that was missed. For example, Asher mentions something at the beginning about breaking the curse for adults that we  never really see again. The underground rebel situation seemed a little bit too calm for me. There were plenty of moments that could have been extended, or just some time for the reader to get used to the rebel society or the final scenes approaching the end.
Jade and Asher were a really nice couple, but I wish there would have been more buildup. Jade was a very strong female character and she kicked butt. Jade was always strong and that was really fun to read. Asher was interesting too, but I didn't connect with him the same way I liked Jade. There were also plenty of minor characters that fell to the side.
Overall, I really liked this twist on the original tale of Sleeping Beauty. It was a really fun, fast paced read. I would suggest this to people who are looking for something fun, maybe to get them out of a reading slump, or people who love fairytale retellings.
About the author:
I've always been a writer. I grew up duct taping my novels together, started writing complete manuscripts in high school and studied creative writing at Johns Hopkins University. Upon graduating, I decided it was finally time to actually give my dream career a chance. So, of course, I started writing a young adult paranormal romance series — and no, I'm not jumping on the bandwagon. I've been a true paranormal supporter for my entire life! I blame my obsession almost completely on Buffy the Vampire Slayer, my all-time favorite television show. And, before you ask: Yes, I own every season… even the post WB ones! I especially challenge anyone to watch the first three seasons and not fall in love with Angel, securing a lifelong love of vampires! Other culprits of my paranormal obsession are some of my favorite authors: JK Rowling, Raymond Feist, Meg Cabot, Richelle Mead, Lynne Ewing and Tamora Pierce.
Author Links:
Website│Goodreads│Twitter│Facebook│Pinterest│Wattpad│Youtube│Amazon