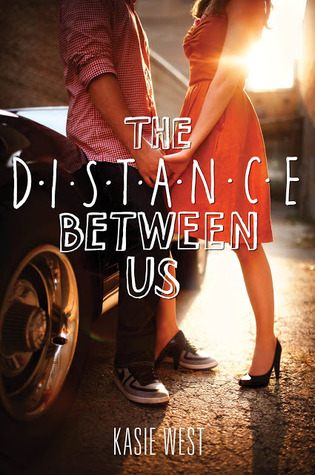 The Distance Between Us by Kasie West
Published Harper Teen 2013
Genre: Young Adult Romance
Format: Kindle ebook
Seventeen-year-old Caymen Meyers studies the rich like her own personal science experiment, and after years of observation she's pretty sure they're only good for one thing—spending money on useless stuff, like the porcelain dolls in her mother's shop.
So when Xander Spence walks into the store to pick up a doll for his grandmother, it only takes one glance for Caymen to figure out he's oozing rich. Despite his charming ways and that he's one of the first people who actually gets her, she's smart enough to know his interest won't last. Because if there's one thing she's learned from her mother's warnings, it's that the rich have a short attention span. But Xander keeps coming around, despite her best efforts to scare him off. And much to her dismay, she's beginning to enjoy his company.
She knows her mom can't find out—she wouldn't approve. She'd much rather Caymen hang out with the local rocker who hasn't been raised by money. But just when Xander's attention and loyalty are about to convince Caymen that being rich isn't a character flaw, she finds out that money is a much bigger part of their relationship than she'd ever realized. And that Xander's not the only one she should've been worried about.
I loved, loved, loved, loved this book.
In the tone of Stephanie Perkins, if you are looking for another cute and fun YA romance, let me introduce you to my newest contemporary author obsession – Kasie West.
I think the characters really sold me on this book (as any good book should). Caymen was full of spunk and life. Her sarcasm was always funny and witty, even causing me to laugh at loud sometimes. I loved the way her sarcasm was layered with some genuineness, because we all probably know someone who uses sarcasm WAYYY too often. That gets annoying. It really lets us see some really personal and heartfelt moments with Caymen, adding so much to her character. Caymen's relationship with her mother was really well done. I liked the connection they had between Caymen wanting to help her mother so much, but also her mother not really letting her in. It was an interesting balance and something I was easily able to connect with. Of course, the love interest is always a very important part of the romance. Xander's character wasn't an annoying, typical YA romance. He had personality outside of falling for Caymen. He was more than just a romantic interest, but he also had personal and career interests. I really liked how the book was as much about finding himself as it was about Caymen finding herself.
The romance in this story was really sweet. The main problem here is that Caymen's family does not have much money, but Xander's parents own a fancy hotel chain. The difference in their income levels causes the biggest problem throughout the story. I loved how it was about more than just money, but there was still that conversation and fly on the wall during the entire book. It was resolved very nicely and I liked seeing them working it out. Ultimately, my favorite part of their relationship was how they met and both picked out job shadowing opportunities for each other – although Caymen did get a little annoying during this part. They both have no idea what the future looks like and I enjoyed watching them find each others.
Overall, I loved this book. It's a great contemporary romance and I'm looking forward to more from Kasie West.