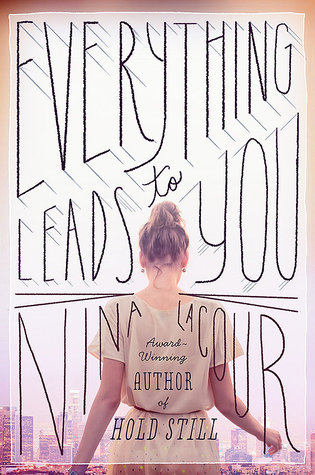 Everything Leads to You by Nina LaCour
Published Dutton Books 2014
Genre: Young Adult Contemporary
Format: Kindle ebook
A love letter to the craft and romance of film and fate in front of—and behind—the camera from the award-winning author of Hold Still.
A wunderkind young set designer, Emi has already started to find her way in the competitive Hollywood film world.
Emi is a film buff and a true romantic, but her real-life relationships are a mess. She has desperately gone back to the same girl too many times to mention. But then a mysterious letter from a silver screen legend leads Emi to Ava. Ava is unlike anyone Emi has ever met. She has a tumultuous, not-so-glamorous past, and lives an unconventional life. She's enigmatic…. She's beautiful. And she is about to expand Emi's understanding of family, acceptance, and true romance.
This book felt like reading in a magical wonderland. Not because there were any fantasy aspects or magic, but the mood seemed to carry this beautiful feeling.
The first thing that stands out about this book is the strong LGBT themes involved. While I have read a few books with this involved, I liked this one because Emi was already out and didn't have any problems with her sexuality. It was just something that was accepted. She had girlfriends, broke up with them, and fell in the love throughout the book without any hitches concerning her sexuality. That was really refreshing to read, especially when most books within that genre focus so much on the coming out part of the story.
Emi's character was a set designer for Hollywood movies and I loved seeing that side of the world. I've given thought to set design before, but I liked seeing her process of going to all the stores to make the perfect living spaces for these characters. It really shows her thoughtfulness and level of detail she puts into everything, as I am sure most set designers do. I'll definitely be on the lookout for set the next time I watch a movie! Her life in Los Angeles was really fun and contributed to that 'wonderland' factor.
Emi's relationship with Ava was a little strange though. I found it kind of insta-lovey, but I am not sure if that's the right word. She didn't fall in love with Ava at first sight, but it was more like she fell in love with the idea of Ava, this granddaughter of a popular movie star. I found their first few connections to be not very geniune. Thankfully, Emi figures this out a little bit by the end, but I wish we got to see more of their relationship past the last page. It would have been interesting to see what happens to them, to the movie, and to her brother. My favorite character in this book was Charlotte, Emi's best friend. I liked how she was always the level minded one and acted more rationally. Emi and Charlotte had a great friend bond that I really want to read more of in young adult.
Overall, I really enjoyed reading this book! I am super glad I picked it up, even though it was a little bit outside of my TBR. Anyway, I loved all the fun wonderland concepts with the setting and emotional feel of this book. The character were my favorite part, although I loved the detail with her job too. The only problem I had was some trouble believing the beginning of the romance, as well as connecting with Ava's character.