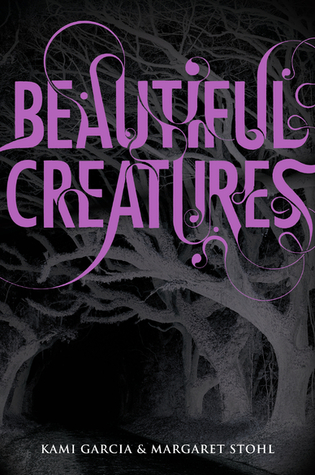 Beautiful Creatures by Kami Garcia and Margaret Stohl (Caster Chronicles #1)
Published Little Brown and Company 2009
Genre: Young Adult Fantasy
Format: Hardback
Is falling in love the beginning . . . or the end?
In Ethan Wate's hometown there lies the darkest of secrets . . .
There is a girl. Slowly, she pulled the hood from her head . . . Green eyes, black hair. Lena Duchannes.
There is a curse. On the Sixteenth Moon, the Sixteenth Year, the Book will take what it's been promised. And no one can stop it.
In the end, there is a grave.
Lena and Ethan become bound together by a deep, powerful love. But Lena is cursed and on her sixteenth birthday, her fate will be decided. Ethan never even saw it coming.
After reading Rebel Belle by Rachel Hawkins about a month ago, I have been in a really bad book hangover. I just wanted something that was set in the deep south and had some paranormal aspects again when I turned to my shelf…and there it was. Beautiful Creatures. So, putting aside my fear of the huge page number (it's a little over 500 pages), I decided to pick it up.
And I'm super happy I decided to pick it up! I really loved this book. I already saw the movie before picking up the book, so I knew a little about what would happen. If you are having some trouble pushing through this huge book, I would suggest watching the movie (unless you are extremely opposed to watching the movie before the book. I found it helped in this case however). It really helps give you some motivation so you will keep reading. Anyway, there were plenty of great things that I liked.
First, the writing style was really interesting. Most of the time, a book like this would be set from Lena's perspective, so I liked that we got Ethan's instead. It was refreshing to get the guy's perspective and I feel like the book benefits a lot from this. First, I loved both Gaitlin (the city) and the Caster world Ethan became exposed to throughout everything. It was a nice way to introduce the world as well, without too much unnecessary backstory. Plus, I feel like it's generally the boy  with the supernatural powers (aka a vampire, an alien, a werewolf), so I liked having a girl with some super cool witch powers. The entire world beneath the city felt really interesting. Seeing how everyone was connected, either by bloodline or being tied into the Caster community, felt like it used the setting of the book to its fullest advantage. I love when the setting is a huge factor in books and plays along with everything, just like a character would. This delivered on that.
Some reviews have said that this book was slow, but I feel like that was also a really smart way of developing the story. The slow, dull town was suddenly awoken by the powerful Caster world and that was reflected in the writing style. It picks up towards the end, especially as everything begins to unravel. Even with that, the story is set over a long time period. I liked being able to see their relationship develop over time because I could connect with the characters and Lena/Ethan's romance. Being able to stick with the characters and discover the world over a long period felt more real than in some other fantasy books where the entire world is discovered within a matter of days. Especially with as complex as the Caster world, I'm excited to see where everything goes in the next book.
The characters were really relatable. Like I said, Ethan was great. He had a very strong voice. The Southern elements of this book were also fun and well appreciated (from a Southerner). Lena was also a very interesting character and I liked seeing her internal turmoil over going light or dark. The side characters all brought a strong vibe with them as well, like Macon, Amma, Marian, Ridley, and Link. None of them fell to the side, but they all were well served minor characters. The plot and world building was also great.
Overall, I really loved this book! I am excited to continue on with this series. It was exactly what I was looking for – especially with the great world building, intriguing writing style, and captivating characters!