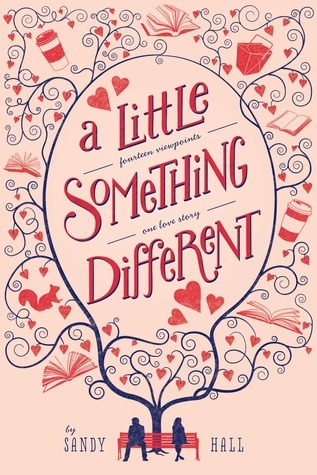 A Little Something Different by Sandy Hall
Published Swoon Reads 2014
Genre: Young Adult Romance
Format: Paperback
The creative writing teacher, the delivery guy, the local Starbucks baristas, his best friend, her roommate, and the squirrel in the park all have one thing in common—they believe that Gabe and Lea should get together. Lea and Gabe are in the same creative writing class. They get the same pop culture references, order the same Chinese food, and hang out in the same places. Unfortunately, Lea is reserved, Gabe has issues, and despite their initial mutual crush, it looks like they are never going to work things out.  But somehow even when nothing is going on, something is happening between them, and everyone can see it. Their creative writing teacher pushes them together. The baristas at Starbucks watch their relationship like a TV show. Their bus driver tells his wife about them. The waitress at the diner automatically seats them together. Even the squirrel who lives on the college green believes in their relationship.
Surely Gabe and Lea will figure out that they are meant to be together….
This book was really innovative. The fourteen different viewpoints were something that had to be admired. Taking on that many perspectives and making them distinct was really impressive. Even when there was something inanimate that was talking (like a park bench), it didn't feel weird. It felt really interesting actually. There were also plenty of human perspectives that I enjoyed. One of my favorite things to think about is all the people that we interact with everyday and what they think about us. Because I definitely ship random people all the time. Just me? Okay. But you should try it sometime because it's really fun.
This method had some drawbacks though. I didn't really connect with either Gabe or Lea. I liked both of the characters, but I didn't feel the relationship. Plus, there were so many frustrating times that they were so close to getting together when something would happen. It took a really long time for the relationship to get anywhere which was incredibly annoying. If it was in their perspectives, it probably would've been worse though. However, we miss why Gabe and Lea like each other, my favorite part of romance books. It is so sweet to see them together but we never get that. It sometimes shows up within brief glimpses of conversations, but none of the sections are long enough to really flesh anything out. However, it does make for a really quick read.
The thing I loved most about this book was the writing. I was never confused between any of the fourteen viewpoints. All of them were incredibly distinct. It did take me a few times during the first couple chapters when I was still expecting a Gabe/Lea chapter to really get some of the perspectives. The dialogue was also a little awkward sometimes. Other than that, I really loved how all the perspectives were handled, while still showing off Gabe and Lea's personalities.
Overall, this was a really fun book. I never really got any feels from the book or connected with the two main characters. However, it was still an enjoyable read that I got through in one day. I would recommend this one for fans of young adult romance, especially ones that have awkward beginnings.