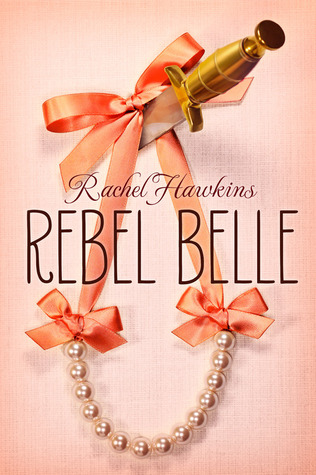 Rebel Belle by Rachel Hawkins (Rebel Belle #1)
Published Putnam 2014
Genre: Young Adult Fantasy
Format: Hardback from the library
Harper Price, peerless Southern belle, was born ready for a Homecoming tiara. But after a strange run-in at the dance imbues her with incredible abilities, Harper's destiny takes a turn for the seriously weird. She becomes a Paladin, one of an ancient line of guardians with agility, super strength and lethal fighting instincts.
Just when life can't get any more disastrously crazy, Harper finds out who she's charged to protect: David Stark, school reporter, subject of a mysterious prophecy and possibly Harper's least favorite person. But things get complicated when Harper starts falling for him—and discovers that David's own fate could very well be to destroy Earth.
With snappy banter, cotillion dresses, non-stop action and a touch of magic, this new young adult series from bestseller Rachel Hawkins is going to make y'all beg for more.
I had so much fun reading this book. I could not put it down until I finished, and now I really need the sequel. My immediate reaction a la Twitter:
I loved Rebel Belle so much and I finally understand the hype. Actually, more than understand the hype. I'm an active participant. READ IT.

— Katherine (@neonyetireads) January 17, 2015
Harper is a Southern belle to the heart and I loved her character so much. She's fiesty and fun, but has a really girly part of her. I liked all the Southern traditions from Cotillion and the little tea shops. While Harper does care about her looks and her social life, I liked how much she respected her job with her newfound powers. She doesn't freak out, but fights back constantly. That mix added a great layer to the book. Also, I actually really enjoyed the love triangle in the book. David was really adorable and one of my new favorite book boyfriends. Ryan is also a really good candidate. The love triangle never extends itself to become a major issue and is resolved in the course of the one book. I'm glad we have a resolution though so we can have more cute, couple-y moments in the next books!
The action and fantasy elements were really sharp. All of the action scenes were described really well so I could easily follow along with what was happening in my head. There aren't too many, but when they do happen, they are awesome! I also enjoyed all the mythology/fantasy that was involved in the world building. It wasn't complex and didn't take long to establish most of it. While there are a few details that were probably left for resolution in the next books, but that was okay. It wasn't too complex, so readers who are just wanting to start reading some light fantasy would really enjoy this one!
Overall, I LOVED this book. It was super fun and everything I was looking for. I haven't had that emotional rush during/after reading a book in a long time. I can't wait to pick up the next book when it comes out!