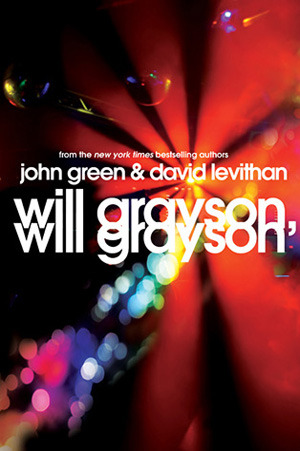 Will Grayson, Will Grayson by John Green and David Levithan
Published Dutton Books 2010
Genre: Young Adult Contemporary
Format: Paperback from the library
Will Grayson meets Will Grayson. One cold night, in a most unlikely corner of Chicago, two strangers are about to cross paths. From that moment on, their world will collide and Iives intertwine.
It's not that far from Evanston to Naperville, but Chiacago suburbanites Will Grayson and Will Grayson might as well live on different planets. When fate delivers them both to the same surprising crossroads, the Will Graysons find their lives overlapping and hurtling in new and unexpected directions. With a push from friends new and old – including the massive, and massively fabulous, Tiny Cooper, offensive lineman and musical theater auteur extraordinaire – Will and Will begin building toward respective romantic turns-of-heart and the epic production of history's most awesome high school musical.
Will Grayson x2 saved me from a reading slump and for that, I am forever grateful. Or at least, my reading goals as they stand right now.
Going into this book, I was mostly hoping to like John Green. I've read TFiOS and thought it was okay, but I've never been able to finish any of his other books. However, I love David Levithan's books. They have a really quirky, witty humor that I enjoy. I was hoping that mashing together an author I loved with an author I hope to love would help me try to pick up some more of Green's books. And this book delivered. I'm reconsidering…any suggestions of your favorite John Green book?
Anyway, Will Grayson should really be titled, Tiny Cooper. He's almost the heart and soul of this book. Without him, there would be none of this novel. While it does contain a very interesting segment about how the Will Graysons met (which I would love to meet someone with my same name), they stay together because of Tiny Cooper. And not really even together. They just both have a mutual friend, but I would not consider the two Will Graysons to be friends at all. In that case, I found the summary to be a little bit misleading, but I liked the characters enough not to care.
Will Grayson (the first) was really witty and like a classic high school boy. He's shifting friend groups at the beginning of the novel and trying to figure out his relationship with a girl named Jane. Of the two perspectives, I enjoyed his more. The other Grayson was extremely pessimistic and was not very fun to read. Thankfully, Tiny Cooper balanced him out. Will Grayson (the second) was struggling with so much, something I didn't expect considering the general fluffiness of the rest of the book. Tiny Cooper's play was so over the top and so crazy but I loved it. While it was a little bit far fetched, it was fun and light. The only part that brought the book down for me was the second Will Grayson.
I enjoyed the writing, but I actually liked Green's part more than Levithan's. Like I said, Will Grayson (the second) was very pessimistic and depressed. I'm typically okay with reading about these types of characters, but I wasn't expecting that for this story. It took me a little out of the world with his overwhelming sadness. I often found myself skimming those chapters to get back to the other Grayson.
Overall, I enjoyed this book. I liked more Grayson than the other. Tiny Cooper played a bigger role than I expected as well. It seemed like both a realistic, sad contemporary and a happy, fluffy contemporary and the mix didn't always work for me.