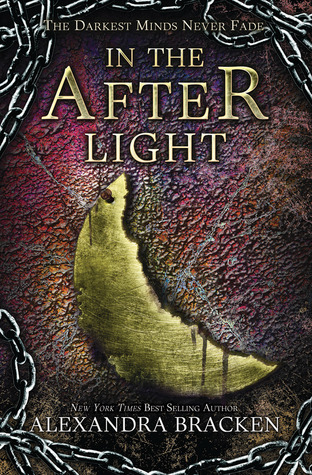 In the Afterlight by Alexandra Bracken (The Darkest Minds #3)
Published Disney Hyperion 2014
Genre: Young Adult Dystopian
Format: Kindle ebook
*Spoilers for the first two books in this series, The Darkest Minds and Never Fade. Stop reading if you don't want to be spoiled! I highly recommend this series if you are interested.
Ruby can't look back. Fractured by an unbearable loss, she and the kids who survived the government's attack on Los Angeles travel north to regroup. With them is a prisoner: Clancy Gray, son of the president, and one of the few people Ruby has encountered with abilities like hers. Only Ruby has any power over him, and just one slip could lead to Clancy wreaking havoc on their minds.
They are armed only with a volatile secret: proof of a government conspiracy to cover up the real cause of IAAN, the disease that has killed most of America's children and left Ruby and others like her with powers the government will kill to keep contained. But internal strife may destroy their only chance to free the "rehabilitation camps" housing thousands of other Psi kids.

Meanwhile, reunited with Liam, the boy she would-and did-sacrifice everything for to keep alive, Ruby must face the painful repercussions of having tampered with his memories of her. She turns to Cole, his older brother, to provide the intense training she knows she will need to take down Gray and the government. But Cole has demons of his own, and one fatal mistake may be the spark that sets the world on fire.
It's been a while since I read Never Fade, which was the biggest problem I had going into this book. I totally forget most of these characters, what their colors meant in relation to their powers, and all of the various groups that were fighting at the time. I was able to catch onto some of it, but I never fully regained everything I should have to fully enjoy this book. There were many parts that I was confused and unsure of what was really happening. I really should have reread the first two before this one.
However, once I finally got into the meat of this book, I was able to enjoy it more. This book reminds me of Mockingjay and Ignite Me in terms of what is happening. At this point, the rebellion is growing quickly and the leaders, in this case Ruby and her friends, are all hiding in an underground bunker. This can make the whole story move slowly. At some parts, it did drag, especially because of Cole. Ruby and Cole were really close in this book, something I didn't remember from the other books. Cole is a really pushy leader and totally unlike his brother, Liam. There is sibling rivalry between Cole and Liam which got old quickly. I was already exhausted of Cole's character halfway through the book and I wanted Ruby to start paying attention to her old friends, especially Liam. Liam got shoved to the side so many times in the book, although he was always bringing up valid and well thought out points to the conversation.
Ruby is a very strong character. She can sometimes get annoying, but she goes through so much character development especially from the beginning of the series to now. All the other characters were also really great. Everyone grew in this book. Chubs is one of my favorites and I loved seeing him get a little bit more confident, especially at the end. Liam is so sweet. I love him. Vida is super strong, but she gets more vulnerable in this book. Her attack and fierceness is always there. Zu made so much improvement in this book, especially as Vida pushes her to be better. The whole group of friends came out really strong.
The plot of this book did get tedious. It was lots of preparation for one final scene for which Ruby wasn't really there. I did like how the whole series came full circle. It's just a nice touch that I like to see happen. The final scenes were written really beautifully and everything happened how I hoped it would. It's so touching how everything works. The only problem that I had with the ending of this book was what happened after the final scene ended. Surely, these kids could never have adapted back to a regular civilian life. Maybe we will get a novella after this book ends?
Anyway, I really enjoyed this series, but I think there is a lot of recapping that needs to be done before reading this one. All of the characters go on really incredible journies. I wish there was a little bit more action and resolution though.